Le Monde sues France President Nicolas Sarkozy's office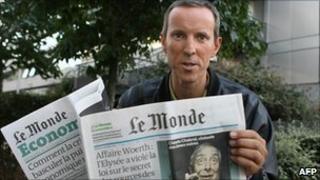 One of France's most respected newspapers, Le Monde, says it is filing a lawsuit accusing the office of President Nicolas Sarkozy of spying on its journalists.
The paper says the presidency used the intelligence service to identify one of its sources.
It said the source - a minsterial aide - had since been relieved of his duties and sent to work in a French colony.
The president's office rejected all of the paper's claims.
It said it had "never given a single instruction" to investigate Le Monde's sources.
Nevertheless, French police confirmed that a senior official had been implicated in a leak investigation.
The newspaper says the president's office was annoyed by a story it ran in July naming Labour Minister Eric Woerth in connection with an investigation into the finances of France's richest woman, L'Oreal heiress Liliane Bettencourt.
The authorities are investigating whether she made illegal donations to Mr Sarkozy's election campaign in 2007.
The president and Mr Woerth, who was the treasurer of Mr Sarkozy's party at the time, have denied any wrongdoing.
Le Monde said it had decided to take legal action after being told by police sources that the intelligence service had obtained the telephone records of a justice ministry official who was in contact with one of its journalists.
It said the official had since been sent on a mission to the overseas territory of French Guiana, in South America.
Le Monde accused the presidency of trying to stifle reporting of the Bettencourt case and of breaking a law designed to protect whistleblowers who leak information to the press.
This is the latest twist in a scandal which began as a family feud between Liliane Bettencourt and her daughter, but has mushroomed into a series of investigations into political donations, suspected tax evasion and money laundering, says the BBC's David Chazan in Paris.