Merkel ally Steinbach quits in row over blame for WWII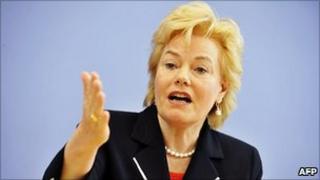 An ally of German Chancellor Angela Merkel says she will resign from a top party post after suggesting that Poland may have been as responsible as Hitler for the outbreak of World War II.
Erika Steinbach said Poland had mobilised its troops months before the Nazis invaded in September 1939.
Her remarks were criticised by senior politicians including Mrs Merkel.
Mrs Steinbach heads a conservative body representing Germans who were expelled from Eastern Europe after the war.
Polish politicians have condemned her stance on the war, which began when Nazi Germany invaded Poland in September 1939.
The BBC's European affairs correspondent Oana Lungescu says Mrs Steinbach, the daughter of a German army officer who served in Nazi-occupied Poland, has long been a figure of hatred for Poles.
At a meeting of the Christian Democratic (CDU) party earlier this week, Mrs Steinbach said Poland had mobilised its troops in March 1939, six months before Hitler invaded the country.
The Polish ambassador to Germany compared her statement to Nazi propaganda. But, he said, today's relations between Poland and Germany were too strong to be affected.
Mrs Steinbach said she would not seek another term on the CDU's national executive on Thursday.
A Polish historian, Tomasz Szarota, called her remarks "an attempt to shift onto Poland partial blame for the start of World War II".
And German Foreign Minister Guido Westerwelle said that "ambiguous statements questioning Germany's heavy responsibility for the outbreak of World War II are unacceptable".