Euro MPs tell France to stop deporting Roma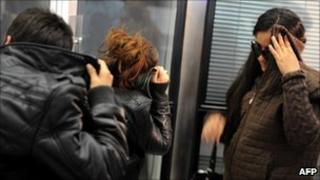 Euro MPs have called on France to suspend immediately its controversial deportations of Roma (Gypsies).
A toughly-worded resolution passed by 337 MEPs also demanded strong action by the European Commission and EU governments to integrate Roma, many of whom live in poverty.
France says it will urge the Romanian government on Thursday to prioritise the integration of Roma.
Since August, France has deported about 1,000 Roma to Romania and Bulgaria.
Two French ministers are in Bucharest to discuss an emergency plan that France wants Romania to implement.
"France will call for commitments on police and judiciary co-operation, the fight against human trafficking and integration of Roma in Romania," said French European Affairs Minister Pierre Lellouche.
Parliament's 'deep concern'
The MEPs' resolution was adopted by 337 votes in the 736-seat Strasbourg parliament, with 245 against. It had been tabled by centre-left, liberal and Green MEPs.
It said the parliament "expresses its deep concern at the measures taken by the French authorities and other member states' authorities targeting Roma and Travellers and providing for their expulsion" and "urges those authorities immediately to suspend all expulsions of Roma".
This week, Italy resumed its dismantling of illegal Roma camps around Milan and Rome. Two years ago, Italy deported dozens of Roma in a major crackdown.
The parliament also "deeply deplores the late and limited response by the [European] Commission as guardian of the [EU] Treaties" over the deportations, the resolution said.
In addition, the MEPs said they were "deeply concerned in particular at the inflammatory and openly discriminatory rhetoric that has characterised political discourse during the repatriations of Roma", which they said gave "credibility" to the language and actions of far-right groups.
The EU Justice Commissioner, Viviane Reding, told the European Parliament on Tuesday that she had asked France for more information about its actions.
Discrimination against any ethnic group or nationality is banned under EU law.
Mr Lellouche has said the expulsions are carried out on a case-by-case basis. He is visiting Romania with French Immigration Minister Eric Besson.
A UK Labour MEP involved in drafting the resolution, Claude Moraes, said it was "highly unusual for the European Parliament to criticise an individual member state in this way, let alone a large founding member of the EU".
He said the resolution "places the European Commission under renewed pressure to begin legal action against the French authorities for failing to respect the rule of law in the way it has been targeting the Roma as an ethnic group".
The Commission has the power to censure France, organise compensation for deported Roma and even take France to the European Court of Justice, if it has evidence that France violated EU law.
See full list of European countries with Roma populations
[919.85KB]