French police search Sarkozy party offices over L'Oreal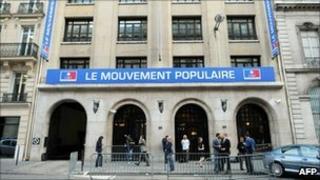 French financial police have searched the main offices of President Nicolas Sarkozy's party over the inquiry into the L'Oreal scandal, reports say.
The probe is looking into claims L'Oreal heiress Liliane Bettencourt made illegal donations to Mr Sarkozy's 2007 presidential campaign.
It is the first time Mr Sarkozy's party has been openly investigated over the allegations, correspondents say.
The claims arose from secret recordings made by a former butler of the heiress.
Nothing was removed from the offices of the UMP party during the search which was made on Wednesday, party director Eric Cesari said.
The search was made at the request of prosecutor Philippe Courroye, the main prosecutor in the L'Oreal scandal, reports say.
Several investigations are under way into affairs linked to Mrs Bettencourt, France's richest woman, including allegations of tax evasion and illegal campaign funding that have implicated Labour Minister Eric Woerth.
Police had come to look for "correspondence between Eric Woerth and Patrice de Maistre", the manager of Mrs Bettencourt's fortune, Mr Cesari told the AFP news agency.
Mr Woerth, who was until recently chief UMP fundraiser, denies any wrongdoing.
The donations to the UMP are alleged to have exceeded the legal limit.
During taped conversations, which were leaked to the French press, Mrs Bettencourt and her financial adviser also allegedly discussed means of escaping French taxes.