Barroso 'state of union' speech on EU: Excerpts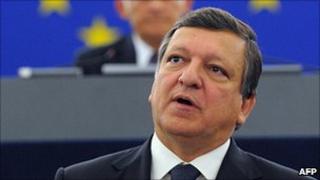 The European Commission President, Jose Manuel Barroso, has urged EU solidarity to reinvigorate Europe's struggling economies, in his first "state of the union" speech.
Excerpts from his speech at the European Parliament in Strasbourg:
Those who predicted the demise of the European Union were proved wrong. The European institutions and the member states have demonstrated leadership. My message to each and every European is that you can trust the European Union to do what it takes to secure your future.
The economic outlook in the European Union today is better than one year ago, not in the least as a result of our determined action.
Growth this year will be higher than initially forecast. The unemployment rate, whilst still much too high, has stopped increasing. Clearly, uncertainties and risks remain, not least outside the European Union.
There is no room for complacency. Budgetary expansion played its role to counter the decline in economic activity. But it is now time to exit. Without structural reforms, we will not create sustainable growth.
We either swim together, or sink separately. We will only succeed if, whether acting nationally, regionally or locally we think European.
We have proposed to protect people's savings up to 100,000 euros (£83,000; $128,000). We will propose to ban abusive naked short-selling. We will tackle credit default swaps.
The days of betting on someone else's house burning down are over. We continue to insist that banks, not taxpayers, must pay up front to cover the costs of their own risks of failure. We are legislating to outlaw bonuses for quick wins today that become big losses tomorrow.
As part of this approach, I am also defending taxes on financial activities and we will come with proposals this autumn.
Boosting employment
Over six million people have lost their jobs since 2008. Each one of them should have the chance to get back into employment.
Europe's employment rates are at 69% on average for those aged between 20 and 64. We have agreed these should rise to 75% by 2020, bringing in particular more women and older workers into the workforce.
We will also act further on red tape. SMEs (small and medium-sized enterprises) are being strangled in regulatory knots. 71% of chief executives say that the biggest barrier to their success is bureaucracy.
The Commission has put proposals on the table to generate annual savings of 38bn euros (£32bn) for European companies.
Stimulating innovation, cutting red tape and developing a highly skilled workforce: these are ways to ensure that European manufacturing continues to be world-class.
Single market ambitions
The internal market is Europe's greatest asset, and we are not using it enough. We need to deepen it urgently.
Only 8% of Europe's 20 million SMEs engage in cross-border trade, still fewer in investment. And even with the internet, over a third of consumers lack the confidence to make cross-border purchases.
At my request, [former EU commissioner] Mario Monti has identified 150 missing links and bottlenecks in the internal market.
Next month we will set out how to deepen the single market in a comprehensive and ambitious Single Market Act.
Energy is a key driver for growth and a central priority for action. We need to complete the internal market of energy, build and interconnect energy grids, and ensure energy security and solidarity.
We need to do for energy what we have done for mobile phones: real choice for consumers in one European marketplace.