Vladimir Putin considers Russia presidency bid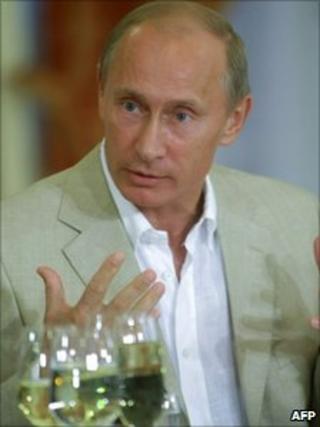 Russian Prime Minister Vladimir Putin says he has not ruled out standing for president again at the 2012 elections.
Mr Putin said he would share power with current President Dmitry Medvedev until the election, when they would decide "what would be best for Russia".
Mr Putin has previously served two terms as president.
Speaking in the Black Sea resort of Sochi, he drew a comparison with US President Franklin Roosevelt, who was elected four times in a row.
'No rush'
The BBC's Steve Rosenberg said Mr Putin looked relaxed as he fielded questions on a range of issues from a select group of foreign journalists and academics.
He said he was in no rush to see the body of Soviet leader Vladimir Lenin removed from its mausoleum in Red Square.
He also accused small groups of anti-government protesters in Russia of deliberately provoking police brutality. Some people, he said, just wanted to be beaten by truncheons.
Mr Putin stood down in 2008 after two consecutive four-year terms as president. But the term in office has since been extended to six years, making him eligible to stand again.
When asked in December whether he would make a bid, he told an audience of Russian citizens "I will think about it".