Roma face struggle on return to Romania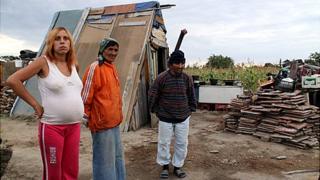 "We are not terrorists," says Letitia Mark, head of a Roma (Gypsy) women's non-governmental organisation in the city of Timisoara.
"We are not common criminals. We are just ordinary people, trying to lead a decent life."
The deportations from France have stung the Roma of western Romania into action.
While most focus on finding new survival strategies for their families, some have also organised a demonstration in Timisoara, and there has been an attempt to improve communication between scattered communities and an array of Roma and civil rights groups.
"I worked with metal - iron, copper, aluminium," says Andras Bobo, 31, from the village of Toagyer in the far west of Romania, close to the Serbian border.
Until three weeks ago, he lived in one of an estimated 14 Roma encampments in the southern French city of Marseille.
But then the police arrived, saying that the camp was going to be closed down and that if they did not leave straight away, they would be ejected by force and sent back to Romania.
Many Roma say the camp clearances have been the result of a new repatriation policy by French President Nicolas Sarkozy and his government.
The authorities maintain that they cleared the Roma camps because people were living in unsanitary conditions and they had become a breeding ground for criminal behaviour. They say the Roma are returning to their homeland voluntarily.
"Sarkozy is a catastrophe," says Mr Bobo.
His brother, Ion, explains: "Until now, relations with the French police were good.
"They visited us, asked if everything was OK, and told us we could stay provided we didn't break the law."
Sleeping rough
The Romanian Minister of Regional Development, Vasile Blaga, has said that none of several hundred deported Roma had a criminal record in France.
The Bobo brothers and 11 others from their village came back to Romania by car and bus before they could be deported.
The line between expulsion and voluntary return is blurred. Each was told to sign a paper, but they have no idea what was written on it.
No translation was provided, and their French is rudimentary. Some cannot even read or write.
The Romanians travel with laminated plastic ID cards from their own country, so there is no danger of a stamp in a passport, forbidding their return.
Under special EU rules for Romania and Bulgaria, which joined the Union in 2007, their citizens have the right to stay in another member country for up to three months without residence papers or work.
The Roma come and go all the time. Andras Bobo has lived in Marseilles for six years - with several visits home.
While much of the media focus so far has been on the payment by the French authorities of 300 euros (£250; $386) for each adult and 100 euros per child who returns voluntarily, the Roma I spoke to preferred to travel back alone, without payment.
They give several reasons - the stigma of expulsion, their fear of flying, but above all their desire to return to France as soon as possible.
Many left one or two family members behind in Marseille, looking after their possessions, preparing the ground for their return.
They have either taken shelter in one of the remaining camps or are sleeping rough.
According to the charity, Medecins du Monde (Doctors of the World), nine of the 14 camps in Marseille have now been destroyed.
'Misery'
Just down the road from Toagyer, the small town of Banloc is just a shadow of its former glory.
The castle which once defended the region from Ottoman armies is an overgrown ruin. Money for its reconstruction ran out, after the outside walls were refaced.
A group of Roma are cutting firewood by a medieval wall. A single donkey struggles to pull the load, balanced precariously on a cart.
In one street on the edge of the town, those Roma who just arrived back are too angry to talk.
"Did you bring us food? Or work? Have you come here to help or to gloat on our misery?" asks one teenager.
A man is introduced as the husband of Lena Constantin, who died of a heart attack a fortnight ago after being told her family was being deported from France.
The family has big debts. He is too sad to speak.
The local orthodox priest, we were told, asked for 1,000 euros (£840; $1,287) to give Mrs Constantin a proper funeral service.
Despite the apparent poverty, the whole village scraped together enough money.
"French people are so kind," says another woman, who begged for four years in Marseille, until she was deported last month.
She had two favourite places, outside the post office, and a large bakery.
"People were fond of me. Some always gave me something," she says.
The woman is the only person I speak to who is hesitating about returning.
She says she is afraid of the police now and is worried about her own fragile health.