Tony Blair attacks 'wicked' dissident republicans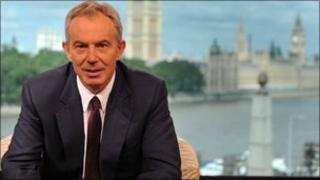 Tony Blair has warned the authorities on both sides of the Irish border not to underestimate the threat posed by dissident republicans.
Mr Blair, who was prime minister at the time of the Omagh bomb attack, said dissidents would not succeed in wrecking the political settlement.
However, he urged vigilance because dissidents were "wicked" and wanted to create a "wave of sectarianism".
Mr Blair's time as PM saw significant progress in the peace process.
He has spoken exclusively to BBC Northern Ireland about the parts of his new book, A Journey, which focus on securing peace.
He said: "If you kill innocent people, you create a situation where you create waves of sectarianism and that is the purpose of it and why it is such a wicked thing."
He added that dissidents did not represent anyone on either side of the border but "there will always be crazy people who do crazy things".
In the interview with BBC NI political editor Mark Devenport, Mr Blair covered a wide range of subjects related to the peace process, including his relationship with unionists and the significance of success in Northern Ireland for his role as a peace envoy to the Middle East.
He has previously said that he "stretched the truth" in order to secure peace, referring particularly to an incident in 2006 when he refused to pass on a message from one side to the other because he believed it had the potential to seriously destabilise the process.
The admission has been criticised by the Ulster Unionists, but Mr Blair said it was an integral part of being a politician.
He said that there should be "no doubt" that the Northern Ireland peace process was a "huge symbol of hope and encouragement for millions of people around the world".
"In virtually every part of the world I go, people want to ask about it and talk about how things are now.
"We know the fragilities but we should just remember what it was like when we used to wake every morning to tales of people dying, when life was pretty difficult and pretty miserable."