Germany agrees to extend nuclear plant life span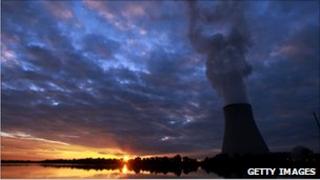 Germany's coalition government has decided to extend the life span of the country's nuclear power plants by an average of 12 years, officials say.
Under the agreement, some plants will now remain in production until the 2030s, instead of being phased out by 2021 as the previous government wanted.
There will also be new fees on utility companies to fund renewable energy.
Chancellor Angela Merkel argued that renewable sources are not developed enough to abandon nuclear power.
She acknowledged that there were widespread concerns about nuclear energy, but said it was needed as a "bridge technology" until renewables were more viable.
German power generation, she said, would become "the most efficient and most environmentally friendly in the world".
Ministers met until late on Sunday to discuss the plan, emerging to announce that the older of Germany's 17 nuclear plants will remain in production for eight more years beyond 2021 while more recent ones will stay online for an additional 14 years.
Change of tack
The plan reverses a decision by the previous government - a coalition of the centre-left Social Democrats (SPD) and the Greens - to shut down Germany's nuclear power stations by 2021.
The agreement was reached at a 12-hour meeting of ministers at the chancellery after months of wrangling.
The chancellor is hoping the decision will heal a split in her centre-right coalition and extend the lifespan of a deeply unpopular government, says the BBC's Oana Lungescu in Berlin.
But polls suggest that six in 10 Germans want nuclear reactors closed, our correspondent says, and opposition parties and environmental groups have promised a "hot autumn", with nationwide protests later this month.
They are also threatening a legal challenge following the suggestion that the government may try to get the change through without a vote in the upper house of parliament, where it has no majority.
The coalition leaders also agreed that energy companies would pay a nuclear fuel tax intended to raise $3bn (£1.9bn; 2.3bn euros) annually and contribute to a special fund to boost development of renewable energy sources.
The big energy companies have opposed the tax and the special fund.
Here are a selection of your comments in reaction to this story:
It was the only sensible thing to do. As much as the Greens may argue that renewable energies can fill the gap of nuclear power, so far the development lacks behind. With new nuclear power stations being build in Eastern Europe the argument for safety reason doesn't cut any ice either. A nuclear accident is just as likely to happen in the east or for that matter in the west of Germany with similar consequences.
WG Brach, Thomasburg, Germany
Unfortunately Chancellor Angela Merkel gave in to the pressure of the nuclear lobby groups and her junior coalition partner (whose rise in the government was heavily supported by industry lobby groups). She has decided to prolong the lifespan of the nuclear power stations against the will of the majority of Germans, including her own voters. This is a black day for the environment, because it will slow down the development of clean, alternative energies for all future generations, who will have to cope with more nuclear waste. It's the same story all over again of governments making decisions which are against the express wishes of their electorate.
Monika Buckley, Ingelheim, Germany
The tax on energy companies and special fund are excellent ideas. It is a shame that nuclear fuel, however, will survive so long into the future. Energy companies will undoubtedly pass on the tax burden to the consumer, but it is the principle that counts, as well as the pressure: that the existing energy industry should extend and develop itself with greater initiative and responsibility, rather than seeking only to maintain current profit levels.
Mark Harrington, Konigsdorf, Germany
At last a sensible decision. Getting out of nuclear energy was just another propaganda trick to win voters by scaring them, without any consideration for the true problems of this planet.
Willem Wieme, Landegem, Belgium
I'm certainly not happy with this. Now, I don't take the stance of "no to all kinds of nuclear energy" and my worries about meltdowns are really slim with current technology (though plants should still be placed in remote areas), but I am very worried about the nuclear waste that results, because that's not going to go away. So I wish it would be banned as soon as a full switch to renewable is conceivably possible, but banning the methods that cause more direct, immediate and constant pollution (such as coal) or disruption to wildlife (such as hydro-electric dams, even though they're technically a renewable source) is more urgent.
Robert, Bucharest, Romania
There is no disputing the fact that the vast majority of people would prefer not to have to rely on nuclear energy for electricity. However, we also do not wish to increase the effects of carbon based generation and the pollution that is associated with it. The price we pay for being so dependant on electricity in our increasingly populated world is a balance between cost and availability. It seems unlikely that we can expect to have adequate supplies from renewable sources by 2020 and therefore extension is inevitable if we wish to have continuity of supply. Of course the big energy companies will resist any additional payments to government, but the sooner alternative sources are commercially viable the sooner these will reduce. Perhaps an increasing charge year on year from, say, 2018 onwards would encourage quicker development.
Edward Lightfoot, London, England
Let us get on with solar wind and tidal power potentials and wave goodbye to nuclear power as the way forward. We owe this to future generations to find long term options not short fix-it ideas.
Graham Parker, Talybont, Wales
It's the only long term solution that we know of. So far there's no other viable technology that would fill in the gap that would be created by switching off nuclear and fossil fuel power plants. Environmental extremists need to make up their minds anyway. They are against nuclear, they are against wind turbines (bad for birds, spoil the countryside), water power plants (destroy the ecosystem). Angela Merkel needs to be applauded.
Kris, London, UK
I think it is very short sighted to arbitrarily cut off the plant lifetime of nuclear power plants. Firstly, they are the most effective central generating plants that do not emit carbon. Secondly, the plant costings and customer rates are calculated on an assumed life (generally 20 or 30 years). Changing those conditions changes the economics significantly with a major penalty not only to the utilities but to their customers and stock holders with no compensating result. Nothing is free and if the utilities are unnecessarily penalised, then the ultimate cost will be bourne by the consumer and taxpayer.
Eric Gully, Abbey, Western Australia, Australia
One has to be realistic. The Germans and their green ideas are sometimes unrealistic. I laughed when I heard that they wanted to shut down their power stations a few years ago and I will guarantee that their current plans are still unrealistic. I could also promise no nuclear power, but unfortunately industry needs power. Who in the end is going to pay the taxes, it's the consumer.
Bernhard Wolf, Port Elizabeth, South Africa
The only sensible choice we have, the most environmentally friendly too. Until some genius finds a better alternative, wind power and solar cells are no alternatives, because they don't deliver what they promise - cheap energy.
Ernesto Grande, Vasteras, Sweden