Italy's dilemma over commercialising the Colosseum
By Duncan Kennedy
BBC News, Rome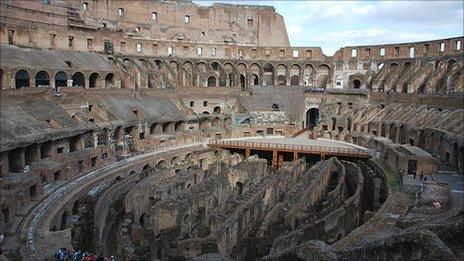 "My name is Maximus Decimus Meridius." The immortal words uttered by Russell Crowe at the start of his menacing speech towards the climax of the film, Gladiator.
He pours out his contempt for the evil emperor standing before him, claiming he is "father to a murdered son" and "husband to a murdered wife", before vowing to "have my vengeance in this life, or the next".
Hollywood may have vamped up this sword and sandals epic for modern day audiences, but it also made a pretty good foray into historical detail, especially with the film's computer generated images of the arena where Russell Crowe's speech takes place.
That arena, of course, is the Colosseum.
Built by the Emperor Vespasian around 70AD and finished by his son, this astounding engineering masterpiece served as the centre piece to many great Roman spectacles.
But in the 2,000 years since it was built, earthquakes, fire, robbery and neglect have rendered it less than the sum of its heyday parts.
Now, that is about to change.
The Italian government wants to give the Colosseum the biggest clean up it has ever had, add additional facilities and make it a much more satisfying visitor experience.
That will include things like removing the iron bars that block many of the ground level arches, which were put up in the aftermath of the 9/11 attacks.
It may also involve moving the ticket office outside, so making access smoother.
Just as tantalising, it will also mean more and safer access to parts of the Colosseum that have not been open before.
The one problem with all these ambitions is money.
In these austere times, the government does not have enough of it to do the job. So it is turning to private business to come up with some of the cash to help.
Yes, the Colosseum is to be sponsored.
"The government is playing its part," says Mario Resca, the head of Italy's museums and heritage. "But we need help."
Mr Resca is familiar with the world of private enterprise. Before taking up his role as what some call Italy's "culture tsar", he worked for McDonald's, running their hamburger operation across Europe.
That connection got him into some trouble before he took up his job, with people accusing him of being an inappropriate guardian of the nation's cultural largesse. But now, he says, Italy's once conservative world of heritage is wising up to the need to embrace commercialism.
"There's no problem in bringing in private money, as long as it's done responsibly," he says.
But sponsoring the Colosseum has raised concerns about how it can be done tastefully.
"We already see that much of central Rome is beginning to look like Times Square," says Darius Arya, from the American Institute for Roman Culture.
"It can be overwhelming to see some of the advertising hoardings on existing classical buildings."
You can witness what he means across the centre of the city. Cars, handbags, banks and jewellery glare out from giant posters on the fronts of buildings that are being renovated.
And it is not just Rome. In Venice, the authorities have just stopped a semi-nude billboard of the actress Julianne Moore advertising luxury handbags from being erected on a palace by St Mark's square.
"Inappropriate", the mayor was quoted as calling it.
Darius Arya agrees. "The Colosseum is one of the most widely known buildings in the world," he says. "They have to get it right."
So how should the Colosseum be "sponsored"? We asked Agostino Toscan, from the advertising agency Saatchi and Saatchi, what he would do.
"It is an iconic building," he says, "so it would have to be very subtle, as advertisers would not want to have their brand associated with anything vulgar."
Mr Agostino showed us an example of what might work. It was the Colosseum with a bright light coming out from within it. Not a giant poster in sight.
"The light," he explains, "could be a laser or a hologram. It wouldn't be intrusive and could project a sponsors logo or product into the night sky".
The government insists the advertising will be respectful. It may mean adding a sponsor's name to brochures or small posters dotted around the Colosseum.
The winner of the competition to become sponsor is due to be announced next month.
Whoever gets to put their image on this unique structure, this may become a template for how the arts in Italy are maintained. Though for some, it will mean a blurring of the lines between culture and commerce and between advertising and antiquity.