'Zebra' stops cars in Russia road accident campaign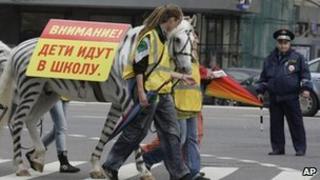 Russian police trying to make motorists respect pedestrians on zebra crossings thought of drafting in exotic zebras to halt Moscow traffic.
Only, police in the Russian capital could not get any zebras - so they painted black stripes on white horses instead.
They paraded the horses over crossings, forcing motorists to slow down and read road safety messages.
Thousands of pedestrians die in road accidents in Russia every year.
Some 378 pedestrians were killed and 6,684 injured at pedestrian crossings in the first six months of 2010, official figures show.
Campaign
In Moscow this week, two teenage sisters were hit: one was killed and the other disabled.
Last month, a motorcyclist hit a toddler in a stroller, killing the child.
Last year a blogger ran a successful campaign to find the policeman who drunkenly ran over and killed his pregnant wife.
Corruption often means that wealthy motorists can get away from fatal accidents without punishment.
Children need education to survive on the roads, police officer Galina Pravdyuk said.
"You have to take care of yourselves while our driving culture is on such a low level," she told school children who came to visit the "zebra" publicity campaign.