Ireland delays EU deal with Israel on data transfers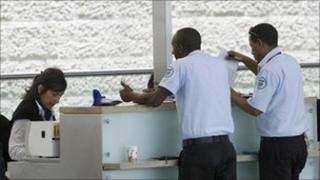 Irish objections have delayed an EU deal to allow the transfer to Israel of personal data on EU citizens.
The Republic of Ireland linked its move to its concerns about the use of forged Irish passports in the killing of a top Hamas militant in Dubai in January - allegedly by Israeli agents.
A European Commission official told the BBC that objections to the proposed data deal had only come from Ireland.
Dublin says Israel must now tighten up its data protection laws.
The deal under consideration is known as a "data adequacy" agreement, intended to facilitate commerce between the EU and Israel.
The EU justice commissioner's spokesman, Matthew Newman, said the commission would seek further clarification on the points raised by Ireland and he insisted that the proposal was "not blocked".
The commission has not yet decided on the next step, he said, adding that a new approach to Israel might not be necessary as "we might already have this information at our disposal".
EU seeks data compliance
The EU already has data adequacy agreements with several countries outside the EU, including Argentina, Canada, Switzerland and the US.
The idea is to make the EU's international partners comply with the data protection standards that prevail inside the EU, speeding up transactions.
In the absence of such an agreement, each transfer of personal data has to be checked by the relevant country's data protection authority, to ensure that it is not leaked to a third party.
Plans for such a deal with Israel were discussed on Thursday by data protection experts from the commission and the 27 EU member-states.
The agreement "was due to go through on written notice, with no further discussion" before Ireland objected, Irish justice ministry spokesman Richard Moore told the BBC.
"This lit a red flag here. We objected, and that triggered a meeting of this data protection committee.
"We were going to vote 'no' if it went to a vote. We accepted we would probably be a lone voice."
Ireland was outraged that eight fake Irish passports were used by suspects in the killing of Hamas official Mahmoud al-Mabhouh in a Dubai hotel.
Forged British, French, Australian and German passports were also used in the operation.
Speaking on Irish radio RTE on Thursday, Irish Justice Minister Dermot Ahern said "the Israelis... can say they weren't responsible, but quite clearly agents on behalf of the Israeli state were involved".
Dubai police have said they are 99% sure Israeli agents were involved, though Israel says there is no proof.
Mr Ahern said Israel's current data protection law "only applies to automated processing, it doesn't relate to manual processing, which would possibly include the transcribing of passport details by hand".
"We had to put up some protest," he said, referring to Ireland's objections to the proposed data deal with Israel.
He said Dublin was also worried that Israel's data protection commissioner was "located within the ministry of justice - not at arm's length, not statutorily independent".
Ireland, the UK and Australia expelled several Israeli diplomats following the Dubai assassination, suspecting that Israel's secret service Mossad was behind it.