How child sex abuse case stunned Portugal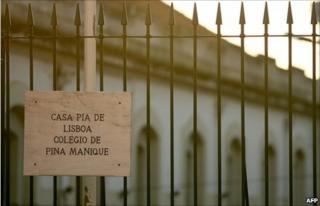 A mammoth child sex abuse trial in Portugal has finally ended more than five years after court hearings began.
The conviction of six of the seven people accused has confounded widespread public scepticism about the judicial system.
The seven defendants faced a total of more than 800 charges relating to an alleged sex ring abusing children from the Casa Pia, a state-run network of homes and schools looking after more than 4,000 needy children.
They included Carlos Cruz, a former TV presenter; Jorge Ritto, a retired ambassador; and a former deputy director of the Casa Pia itself.
Carlos Silvino, a 54-year-old former Casa Pia driver, was the hub of the ring, and faced more than 600 charges relating to the abuse of children or procuring them for others.
Five other male defendants each faced between six and 48 abuse charges. One was also accused of pimping.
But a 68-year-old woman, Gertrudes Nunes, was acquitted of charges relating to the use of her house in Elvas, near the Spanish border, by the abusers.
The abuse at Casa Pia is said to have started in the mid-1970s, but was not discovered until 2002.
Slow progress
The initial stages of the trial, and of the lengthy investigation that preceded it, gripped Portugal.
But the subsequent slow progress due to the sheer number of witnesses to be heard and a string of procedural delays, as well as the fact that charges against a Socialist deputy and former government minister were dropped, all helped foster cynicism about the judicial system.
"The Portuguese legal system is very formal, permitting an incredible number of witnesses - more than 800 - and every kind of attempt to delay, making things easy for the defence," says Miguel Matias, lawyer for 31 former Casa Pia pupils now aged between 16 and 22.
While many of the general public had lost faith in the system, however, he was more optimistic.
He noted that Silvino pleaded guilty to most charges and testified against the other defendants, who all denied the charges against them.
In any case, Mr Matias sees the end of the trial as enabling his clients to move forward.
"It's a very important day for these people... They need an end to start their lives, which are in some cases very fragile."
Several of the victims told how they planned to be in court for the verdict, including one now known as Bernardo Teixeira.
"I wouldn't be anywhere else," he told state broadcaster RTP. "My greatest pleasure would be to come out of court with my head high and tell people: it was true what I was saying, I wasn't lying."
The sentences have not yet been revealed. The penalty in Portugal for the sexual abuse of a child ranges from three to 10 years in prison, although there is an upper limit of 25 years on the total sentence that can be handed down.
'Greater openness'
This case is not the only one spawned by the investigation that began in 2002.
Seven other trials have already run their course, with some of those found guilty themselves former Casa Pia pupils - as was Silvino.
Child psychologists who conducted interviews at the start of the investigation concluded that more than 100 children had probably been abused at some time, but only in a minority of cases was it possible for police to take the matter forward.
The media coverage has, however, raised awareness about the abuse of children, and put pressure on the authorities to improve their response.
"Bit by bit there has been greater openness from the public, schools, and parents," says Susana Maria, the president of an association set up by psychologists to promote the prevention of child abuse.
Ms Maria warns, though, of the danger that a criminal case involving a huge institution might lull some members of the public into a false sense of security.
"We fear there may be myths associated with this - that such things don't happen in 'normal' families."
Police figures show reported cases of sexual abuse of minors rising from some 100 a year in 2000 to more than 500 in 2002, doubling in 2003 and then stabilising.
Failed by the system
As for the Casa Pia, its various schools and homes continue to cater for some 1,800 orphans and children whose families are unable to provide for them.
Pedro Namora, a lawyer and former pupil who helped journalist Felicia Cabrita break the story in Expresso newspaper back in 2002, remembers his teachers' dedication with fondness, while condemning the directors' failure to safeguard the well-being of other children with no homes to go to at the weekend.
"These were kids from deprived backgrounds, seen as rubbish," he said. "Incidents were reported, but officials washed their hands of it."
If it were not for the intense media attention, he suggested, this case might have been brushed under the carpet.
During the police investigation it emerged that officials had two decades earlier uncovered indications of organised abuse, but an inquiry into the allegations was ultimately shelved.