EU presses France on Roma deportations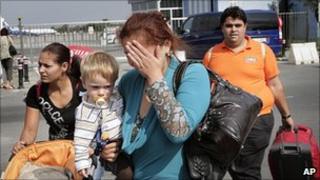 The European Commission has criticised France over its expulsions of Roma (Gypsies) and has requested more information about the crackdown.
An interim report by the commission - the EU's executive arm - says the French policy does not put enough emphasis on the individual circumstances of Roma facing expulsion.
France has expelled nearly 1,000 Roma to Romania and Bulgaria from illegal camps since July.
The crackdown is highly controversial.
Freedom of movement and non-discrimination are enshrined in EU rules, so France's interpretation of EU law is under scrutiny.
The BBC's Christian Fraser in Paris says that under EU rules, the state can expel people who have been in the country for at least three months without a job or are a social burden.
But they can be expelled within three months of their arrival if they are deemed to be a threat to public security.
Call for Roma integration
Last week, French Europe Minister Pierre Lellouche told the BBC that expulsions were checked on a case-by-case basis.
The interim report, signed by three EU commissioners, says the commission wants France to explain "whether and to what extent the safeguards required... have been applied" as far as the Roma are concerned.
The commission says that before expulsion a person's age, health and time spent in France all need to be considered.
The French government said it was "scrupulously respecting European law" and helping deported Roma reintegrate. It also said most of the repatriations were voluntary.
France pays those who agree to leave 300 euros (£249), plus 100 euros for each of their children, Reuters news agency reports.
French President Nicolas Sarkozy has said 300 illegal Roma camps are to be removed.
On 25 August EU Justice Commissioner Viviane Reding voiced concern about the French expulsions.
"It is clear that those who break the law need to face the consequences. It is equally clear that nobody should face expulsion just for being Roma," she said.
"There is a broad consensus in Europe that what is needed now are concrete and forward-looking measures to improve the social integration of Roma.
"We need, in particular, to tackle the root causes leading Roma to abandon their homes and move across borders."