No-one injured in Russian tower block collapse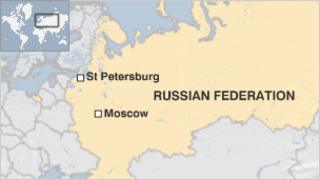 No-one was injured when parts of a tower block collapsed in the Russian city of St Petersburg, officials say.
Emergency workers were at the scene after part of the eight-storey building, which had been undergoing reconstruction work, collapsed.
Three people known to have been working in the building have been accounted for, reports said.
Most of the building had been empty for several months, according to reports on Russian media.
An office worker and two shop assistants working in lower floors of the building, in Ligovskiy Prospeckt, got out of the building unharmed.
But later, officials told reporters most of the building was empty.
"The building was emptied of residents several months ago, there was neither property nor people in it," officials in St Petersburg.
There was no word on what may have caused the collapse.