Spain breaks up male-sex trafficking ring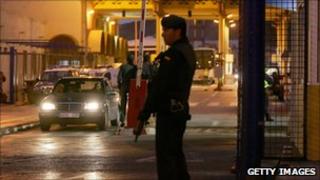 Spanish police say they have broken up a sex trafficking ring which brought mostly young Brazilian men to Spain to work as prostitutes.
Authorities arrested 14 people on suspicion of running the group and 17 alleged male prostitutes.
The victims and their clients were plied with cocaine, viagra and other recreational drugs.
Police say it is the first time they have dismantled a trafficking operation involving male prostitutes.
The suspected sex workers were in their 20s and were mostly from northern Brazil.
'Threatened'
They were reportedly told that they would get legitimate jobs in Europe as dancers or models, but were instead left with debts of around 4,000 euros (£3,300) - the cost of travelling to Spain.
Others knew they would be working in the sex industry but did not know that they would be expected to work 24 hours a day and would be moved from province to province.
"If the men complained or caused any kind of problem, the gang leaders would threaten them, even with death," the police statement said.
The alleged head of the ring is a Brazilian who operated the organisation from Palma, on the island of Mallorca, sending men to brothels across the country and advertising in magazines and newspapers.