Russia care home blaze kills nine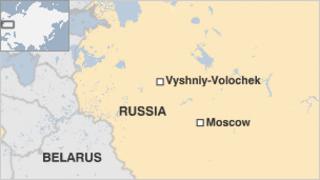 A fire that killed nine people in a Russian retirement home early on Monday was probably started by one of the residents, investigators say.
An 86-year-old man died from burns after apparently dousing himself in petrol and setting light to himself, the Russian prosecutor's office said.
Eight others died in their beds at the home in Vishniy-Volochek, a town about 200km (120 miles) north-west of Moscow.
Some 480 people were evacuated but eight died from smoke inhalation.
Tver regional officials say the home's fire safety regulations had been properly observed and the fire alarm had sounded.
Firefighters extinguished the blaze soon after it started.