UN urges France to avoid Roma deportations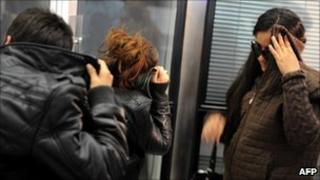 A UN committee has urged France to avoid collective deportations of Roma (Gypsies) to Romania.
The Committee on the Elimination of Racial Discrimination also said it was concerned about "discriminatory" political speeches in France.
The French government said it was "scrupulously respecting European law" and helping deported Roma reintegrate.
France has recently sent hundreds of Roma back to Romania and Bulgaria and dismantled more than 100 illegal camps.
French President Nicolas Sarkozy has announced that 300 such camps are to be removed. The latest round of deportations took place on Thursday.
'Residency limits'
The UN committee issued a series of recommendations urging France to "avoid" collective deportations and "strive for lasting solutions".
"Our concern is that the removal or return of the Roma has been done on a collective basis rather than examining their individual circumstances," said Pierre-Richard Prosper, a member of the committee.
Members of the UN panel also expressed concern about "political speeches of a discriminatory nature in France".
The policy of deportations has drawn fierce criticism from human rights and anti-racism groups, while the EU says it is reviewing the legality of the move.
Mr Sarkozy's opponents accuse him of using the issue to boost his flagging support by appealing to the French right wing.
But the French government, which says it expelled thousands of Roma this year and in 2009, says it is acting in accordance with EU law by repatriating Roma who have been in France for more than three months without work. It also says most of the repatriations are voluntary.
The French foreign ministry on Friday pointed to "two limits on residency rights" under EU law: "respect for public order and possession of sufficient resources to not impose an excessive burden on the host country's social welfare system".
It said those asked to leave were being given a grant, "which can help those concerned to re-enter social and professional life", and that expulsions to Romania were being carefully co-ordinated with the government there.
"In only a minority of cases are departures carried out as forced deportations, under the authority of civil magistrates and judges, who rule on a case-by-case basis."