Chechen warlord Umarov 'steps down because of age'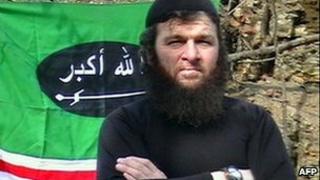 Chechen rebel leader Doku Umarov, who claimed the Moscow Metro bombings earlier this year which killed 40 people, is said to be resigning.
In a video released online a man appearing to be Mr Umarov, 46, says he is handing over to a younger comrade.
The speaker says a man seated next to him, named as Aslambek Vadalov, can lead "more energetically".
Doku Umarov is one of the few rebel leaders to survive from Chechnya's spell of independence from Russia.
He served as security minister in the separatist government from 1996-99.
The Russian state regards him as a notorious terrorist, head of the self-styled Caucasus Emirate - an armed Islamist movement seeking control of the mainly Muslim territories in the Russian North Caucasus.
He is also officially described as a terrorist by the US state department.
In the video, which appeared on a French video-sharing website before being removed on Sunday, the man believed to be Doku Umarov says he will continue personally to wage "jihad" against Russian rule in the Caucasus.
String of attacks
He assumed the rebel leadership after his predecessor, Abdul-Khalim Saydullayev, was killed in a police operation in June 2006.
Before the Moscow Metro attacks in March 2010 he said he had ordered the bombing of a train between Moscow and St Petersburg in November 2009. That attack killed 26 people.
In June 2004 he is said to have played a key role in organising a rebel attack on Ingushetia, in which several dozen people, including the acting Ingush interior minister, were killed.
Within Chechnya itself he is suspected of being behind a string of kidnappings for ransom and is said by officials to have been involved in killing Chechens who co-operated with the region's pro-Kremlin government.
Announcing Mr Umarov's resignation, the pro-rebel news website Kavkaz-Tsentr gave some details of Aslambek Vadalov.
A native Chechen, he is said to have taken part in the first Chechen War of 1994-96, and fought Russian forces in the 1999 war under Khattab, the foreign-born warlord killed in 2002.
He swore an oath of allegiance to Mr Umarov in 2007, the pro-rebel website added.