German Nazi suspect Samuel Kunz 'may be tried as minor'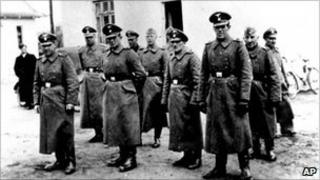 An 88-year-old man charged with taking part in the killing of 430,000 Jews at a Nazi death camp may be tried as a minor, officials say.
Samuel Kunz is also charged with personally shooting dead 10 Jews at Belzec in occupied Poland in 1942-43.
The retired civil servant was 20 when he is alleged to have started working as a guard at the camp.
He has confirmed being at Belzec, but denied being involved in any killings, officials say.
Prosecutors brought charges against Mr Kunz at the adolescent chamber of Bonn's regional court earlier this month.
A panel of five judges are currently deciding whether there is enough evidence to proceed with the case, a court official told the BBC.
"The prosecution decided to file the charges with the chamber because at the beginning of the period the accused was an adolescent," court spokesman Matthias Nordmeyer told the BBC.
Under German law, suspects aged between 18 and 21 can be charged as minors or adults; the maximum sentence adolescent courts can impose is life in prison.
Red Army
The Simon Wiesenthal Center, a Nazi-hunting organisation, puts Mr Kunz as number three on its most-wanted list.
He had been questioned several times by German investigators, but not charged.
However, his name emerged recently during the trial of another Nazi war crimes suspect, John Demjanjuk.
Prosecutors say both men were born in what became the Soviet Union and became camp guards after being captured by the Germans while serving in the Red Army.
Mr Kunz has already been called as a witness in the trial of 90-year-old Mr Demjanjuk, who was deported to Munich from the US last May.
Mr Demjanjuk is charged with participating in the murder of 27,900 people at the Sobibor death camp. He denies the charges.
Both men allegedly trained at the same SS camp, at Trawniki in Poland.
Mr Kunz gave evidence about that camp during a 1960s trial, but was never indicted himself, said Klaus Hillenbrand, an expert on the Nazi period.
"During the 1960s, prosecutors were not interested in charging low-ranking guards," said Mr Hillenbrand.
"That changed in the past 10 years when a new generation of prosecutors took over and there is a new way of thinking among them."