Moscow engulfed by worst smog in almost a decade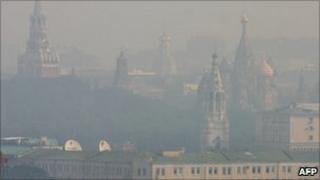 Moscow is suffering from the worst smog in almost a decade, as the Russian capital continues to swelter in the hottest weather since records began.
The conditions have sent pollution in the city to ten times above safe levels.
Russia's chief lung doctor said the carbon monoxide level was the equivalent of smoking two packs of cigarettes every few hours.
The smog was sparked by some 43 peat fires in the Moscow region.
Irina Andrianova, spokesperson for the emergencies ministry, said they hoped to put the fires out before the end of the day, but that they would be likely to appear again due to the weather.
Aircraft have already dropped 516 tonnes of water to extinguish fires, according to AFP news agency.
Moscow's regional chief, Boris Gromov, has asked Prime Minister Vladimir Putin to commit 25bn roubles ($827m; £531m) towards the emergency effort.
'Stay indoors'
Temperatures remain high at 37.3C, virtually unchanged from Monday's reading of 37.4C, the highest figure the country has seen.
Key landmarks of the city, such as the Kremlin, remain shrouded in a thick fog.
Pulmonologist Alexander Chuchalin said that the level of carbon monoxide "damages an average of 20% of red blood cells in a human body, which equals to the effect of two packs of cigarettes smoked within three or four hours."
He recommended that the public wear masks, take antioxidants such as vitamin E, and try to stay indoors.
Meanwhile, internationally renowned biologist Alexei Yablokov, who also heads Russia's green party, said the toxins in the air could kill hundreds more people than usual.
The smog is expected to begin to clear on Thursday evening, according to Dmitry Kiktev from the Roshydromet meteorological service.
He said that temperatures are forecast to cool off over the weekend by four or five degrees celsius.