Iceland defies EU fishing rules as bid talks open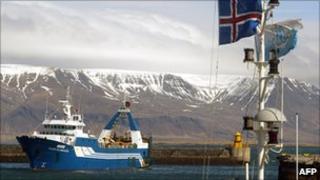 Iceland has kicked off its EU accession negotiations saying it will not tolerate competition from rival fishing fleets in its waters.
Iceland's foreign minister said his country must keep control of its vast, exclusive economic zone in the Arctic.
Fish accounts for nearly half of Iceland's exports, Ossur Skarphedinsson told EU foreign ministers on Tuesday.
Iceland's pro-whaling stance and a dispute over the collapsed Icesave bank are also seen as hurdles in its EU bid.
Despite the EU's Common Fisheries Policy, Mr Skarphedinsson said, Iceland's exclusive economic zone, covering some 760,000sq km (293,438sq miles), should become "a specific management area where Icelandic authorities continue to be responsible for management of the fisheries".
Iceland argues that it pursues sustainable fishing and can provide a model for long overdue reforms of the Common Fisheries Policy.
Correspondents say Iceland is better placed than any other candidate country to become the EU's 28th member, as it is already aligned with many EU policies. It is in the European Economic Area (EEA), meaning it respects single market rules, and is in the Schengen zone, easing cross-border travel.
Iceland, with a population of 323,000, also has stable, centuries-old democratic traditions.
Compensation dispute
But the UK and Dutch governments want Iceland to reimburse 3.8bn euros (£3.2bn; $4.7bn) that they paid out to savers who lost money when the Icesave online bank went bust in 2008.
Icelanders have voted against a payout and the issue remains unresolved.
Opinion polls suggest that many Icelanders remain opposed to EU membership - and the Icesave dispute is seen as a big element in their Euroscepticism.
Mr Skarphedinsson said many Icelanders blamed "faulty regulations" on banking supervision in the EEA, and he admitted "we experienced a significant drop in support" for EU membership.
But he voiced confidence that the pro-EU camp would win a referendum in Iceland, once the problem areas in the negotiations were resolved.