Catalonia bans bullfighting in landmark Spain vote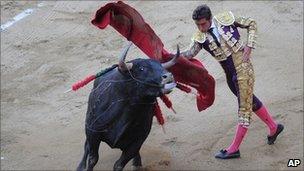 The parliament of Catalonia has voted to ban bullfighting - the first region of mainland Spain to do so.
The vote took place as the result of a petition brought to parliament, signed by 180,000 people who say the practice is barbaric and outdated.
Bullfight supporters insist that the corrida, as it is known, is an important tradition to preserve.
They also fear the vote could be the first of many in the country. The ban takes effect in January 2012.
In Wednesday's vote, 68 backed a ban, 55 voted against and nine abstained.
Barcelona's main bullring is one of the oldest in Spain, but support for the bullfight has waned. The Barcelona bullring is the only functioning one in Catalonia.
The vote was brought to the agenda by activists who argue it is cruel and unacceptable and say most spectators in Catalonia these days are tourists. The campaign was led by the animal rights lobby group Prou! (Enough!).
Supporters says the corrida is an art form that it is vital to preserve.
The vote was close as the two main parties in parliament took the unusual step of allowing members to cast their ballots according to their conscience.
But while the official debate is over animal rights, many believe this process is an attempt by nationalist-minded Catalans to mark their difference from the rest of Spain by rejecting one of its best known traditions.
Pro-bullfighting groups fear that a ban could spark a wave of similar campaigns across the country. They argue that threatens the livelihood of thousands of people.
The first Spanish region to ban bullfighting was the Canary Islands, in 1991.
A bullfight typically lasts about 20 minutes, and the bull is stabbed numerous times before the fatal blow delivered with a sword thrust between its shoulder blades.
The fighting bulls are specially bred and traditionally a corrida involves six bulls and three matadors, each of whom tackles two bulls.
In Portugal and the south of France the bull is not killed in the ring.
Bullfighting is also widespread in Latin America. The Plaza Mexico arena in Mexico City is the biggest in the world, seating up to 55,000 spectators. One of the oldest is the 18th-Century Plaza de Acho in Lima, Peru.
One of the most famous fans of bullfighting was the US writer Ernest Hemingway, who celebrated the tradition in his book Death in the Afternoon.
In Spain, bullfighting was the theme of a classic novel by Vicente Blasco Ibanez, called Blood and Sand. A famous poem by Federico Garcia Lorca was also dedicated to a bullfighter.
Related Internet Links
The BBC is not responsible for the content of external sites.