'No survivors' from Romania military helicopter crash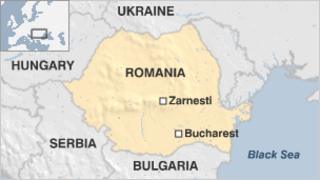 Six Israeli soldiers have been killed after their military helicopter crashed into a mountain during a low-altitude exercise in Romania on Monday.
A Romanian soldier was also killed when the CH-53 military transport helicopter came down in thick fog near the central town of Zarnesti.
A Romanian rescue official said the helicopter burst into flames on impact. At least four bodies have been found.
The Romanian defence ministry said no survivors were found at the crash site.
"Defence Minister Gabriel Oprea expresses his deep regret over the death of the seven soldiers," AFP quoted a ministry statement as saying.
Four Israeli pilots and two mechanics were on the ill-fated helicopter, Israel's Yediot Aharonot daily reported.
The head of mountain rescue in the Bran region said the bodies were recovered at the site.
Difficult terrain
The defence ministry said contact had been lost with one of two IAF helicopters taking part in an exercise at around 1520 (1720 GMT) on Monday.
They were flying through a mountainous area in bad weather.
"At around 1545, search-and-rescue teams located the remains of the Israeli helicopter that was reported missing in the Fundata-Zarnesti area of Brasov County," the ministry said in a statement.
"Search teams on the ground are working to locate the members of the crew."
The ministry said the cause of the crash was still unknown.
Mountain rescue officials said the helicopter had caught fire before losing altitude and crashing at an altitude of 2,246m (7,369ft) in the Carpathian Mountains. Witnesses also said they had seen smoke coming out of the aircraft.
The Romanian and Israeli troops were taking part in Blue Sky 2010, an 11-day exercise in which they were practising flying at low altitude in difficult terrain for search-and-rescue missions and medical evacuations.
Earlier this month, Romania's defence ministry said an Israeli CH-53 had crash-landed during manoeuvres after "sensing a failure on board".
There have been at least five recorded crashes of CH-53 helicopters in Israel. The worst was in 1997, when two collided over the Israel-Lebanon border, killing all 73 military personnel on board.