Putin says spies expelled from US had 'tough lives'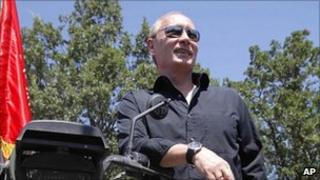 Russian Prime Minister Vladimir Putin says he has met the Russian agents recently deported from the US - and claimed they were living "tough lives" and had been "betrayed".
He told journalists that he had sung Soviet-era patriotic songs with the agents.
However, Mr Putin did not say where the meeting took place.
The 10 Russians admitted in a US court earlier this month to being agents for a foreign country.
More serious money laundering charges against them were dropped.
They were then flown to Vienna, where a Russian jet carrying four prisoners freed by Russia arrived around the same time - in what was America's biggest spy swap with Russia since the Cold War.
'Betrayal'
Mr Putin, who served as a KGB agent during the Soviet era, made the comments about his meeting during a visit to Foros, Ukraine, on Saturday.
He also confirmed that Anna Chapman - who had received most of the publicity in the Western and Russian media - was among the agents present.
He said they had talked about life, and that "every one of them had a tough life".
"First [problem] was to master foreign language as your own. Think and speak it and do what are you told to do for the interest of your motherland for many years without counting on diplomatic immunity," the prime minister said.
Asked whether he had sung karaoke with them, Mr Putin said: "We did, but not with a karaoke box. We sang to live music and we sang 'Where the Motherland Begins' and other such songs."
The song became hugely popular after it featured in a 1960s film about a Russian spy working in Nazi Germany.
Mr Putin went on to say that the spy swap with the US had come about as a result of "betrayal".
"Traitors always end badly. They finish up as drunks, addicts, on the street," he said.
And when asked by reporters if Moscow was planning to take revenge, he said it was incorrect to ask about it.
"It cannot be solved at a press conference. They live by their own laws, and all special services are well aware of these laws," he said.