France to sell two Mistral-class warships to Russia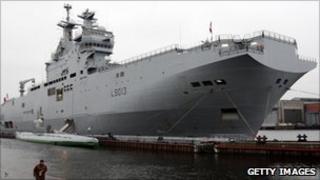 France has agreed to build two advanced warships for the Russian navy, French President Nicolas Sarkozy has said.
The ships are part of a deal - which alarmed France's Nato allies - to supply Mistral-class vessels.
The 23,000-tonne warships, costing $388m (£254m) each, can carry troops or helicopters and are used in amphibious assaults.
In February it was announced that France had agreed to build one vessel and Russia had requested three others.
'Russian friends'
Mr Sarkozy said the details of the contract were still being settled.
"With our Russian friends, you are going to build the two BPCs," Mr Sarkozy told workers at the STX shipyard in Saint-Nazaire, using the French abbreviation for the ships.
"We're still negotiating the contract, but the decision to go ahead is certain."
The deal, which is the first of its kind between France and its Cold War enemy, has caused alarm in Nato, as there are fears it will give Russia more cutting-edge technology.
In February a US official told reporters the US "had questions" for France about the order.