New war crimes trial for former Kosovo PM Haradinaj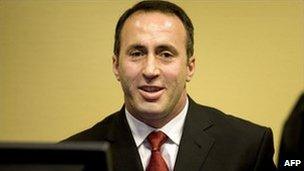 The Hague tribunal has ordered a new war crimes trial for Kosovo ex-PM Ramush Haradinaj and two others.
The three Kosovo Liberation Army (KLA) members were tried two years ago on charges of crimes against Serbs or their supporters in 1998.
Only one of them was convicted of a crime.
Hague tribunal president Patrick Robinson said the original trial had been marred by witness intimidation.
The tribunal had, he added, "failed to appreciate the gravity" of the intimidation.
Mr Haradinaj, Idriz Balaj and Lahi Brahimaj were all three ordered on Wednesday to be placed in custody in the UN Detention Unit at The Hague.
Mr Haradinaj, a popular figure among many Kosovans who stepped down as prime minister to face his original trial at The Hague, showed no emotion when Judge Robinson ordered the retrial.
No date was set immediately for the retrial.
They are accused of seeking to impose KLA control on the Dukagjin area of western Kosovo by attacking local civilians. Forty civilians were allegedly murdered in the area.
The KLA was fighting Yugoslav security forces at the time, in its campaign to win independence from Serbia for the mainly ethnic Albanian province.
"The trial chamber failed to appreciate the gravity of the threat that witness intimidation posed to the trial's integrity," Judge Robinson said in handing down his decision.
"Given the potential importance of these witnesses to the prosecution's case, the error undermined the fairness of the proceedings and resulted in a miscarriage of justice."
An appeal by Brahimaj against his conviction and six-year sentence for torture was rejected.
Related Internet Links
The BBC is not responsible for the content of external sites.