EU boosts hi-tech research budget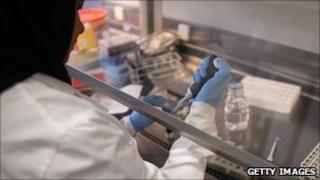 The EU has announced 6.4bn euros (£5.4bn) of funding for scientific research and innovation next year - a 12% increase on this year's allocation.
The programme is aimed at creating more than 165,000 jobs and developing "a more competitive and greener Europe", the European Commission says.
The focus is on tackling climate change, energy projects, food security, health and Europe's ageing population.
Grants will be awarded to about 16,000 research bodies and businesses.
"Research and innovation are the only smart and lasting route out of crisis and towards sustainable and socially equitable growth," said the EU Commissioner for Research and Innovation, Maire Geoghegan-Quinn.
"There is no other way of creating good and well-paid jobs that will withstand the pressures of globalisation."
EU-funded research currently accounts for about 5% of the total public funding for research in the EU, she said.
The investment includes more than 600m euros for health research, about 206m euros of which will go into clinical trials for new drugs.
Nanotechnologies will get 270m euros, while about 600m euros is earmarked for advanced computer technologies.
Another 400m euros is to be spent on computer applications that address the challenges of building a low-carbon economy and managing ageing populations.
Fusion shortfall
The enriched EU budget will have to accommodate a 1.4bn-euro shortfall in building funds for the Iter fusion reactor. This is an ambitious project based in France that will aim to prove the concept of harvesting energy from the fusion of hydrogen nuclei - the same process as at the heart of the Sun.
The European Commission has announced plans to "redeploy" 100m euros in 2012 and 360m euros in 2013 from its 7th Framework Programme for Research.
It will also transfer unused funds of 400m euros from other EU budgets to the Iter project.
A Commission spokesman told BBC News: "No existing research projects will be downgraded… and the extent of the projects funded in 2012 and 2013 will still increase significantly."