Journalist Sokratis Giolias gunned down in Greece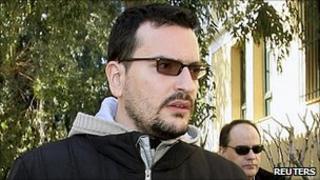 A Greek investigative journalist has been shot dead outside his home in Athens in an attack linked by police to leftist militants.
Sokratis Giolias, 37, was shot more than 15 times in the Athens neighbourhood of Ilioupoli.
According to colleagues, he had been about to publish the results of an investigation into corruption.
Police said ballistics tests tied the killers' guns to previous attacks by the Sect of Revolutionaries.
They had initially discounted the idea that leftist militants might have killed Mr Giolias.
The Sect of Revolutionaries (SR) has threatened members of the media in the past. Last year they attacked the headquarters of private broadcaster Alter TV, without causing any injuries.
No group has yet said it was behind the killing of Mr Giolias.
'Summoned into street'
Mr Giolias was head of news at private Athens radio station Thema FM, and wrote on a popular news blog, called Troktiko.
"Somebody wanted to silence a very good investigative reporter who had stepped on a lot of toes with his stories," said Panos Sobolos, president of the Athens journalists' union.
Greece's parliamentary speaker Philippos Petsalnikos expressed "outrage and grief at this heinous and murderous act".
The BBC's Malcolm Brabant in Athens says while gangland murders are frequent occurrences in Greece, attacks on journalists are rare.
The last such murder was in the mid-1980s, when the guerrilla group November 17 killed a conservative newspaper publisher.
Mr Giolias was apparently killed by a professional hit team, our correspondent says.
Police are looking for two or three gunmen who, masquerading as security personnel, and wearing bullet-proof vests, called at the journalist's apartment and summoned him into the street on Monday morning, he says.
Their getaway car was later found abandoned and burned.
Threat to media
"The ballistic investigation showed that the guns used in the assassination today... have been used in attacks claimed by the Sect of Revolutionaries," police said in a statement.
Emerging after the riots which raged in Greece in December 2008, the group said it had killed an anti-terrorist police officer who was shot dead in June 2009.
After the gun and bomb attack on Alter TV, the group accused the media of manufacturing news and attempting to ensure the public remained obedient to the state.
"Journalists, this time we came to your door, but next time you will find us in your homes," SR said.