Serbia and Croatia forge ties with talks in Belgrade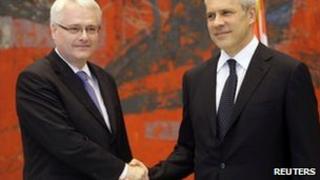 Serbian President Boris Tadic has hailed what he called a historic visit by his Croatian counterpart, Ivo Josipovic, to Belgrade.
After their talks, Mr Tadic said Serbia wished for the best possible relations with its neighbour and former enemy.
Mr Josipovic said both countries shared the goal of peace and stability and were finding ways to address the past.
Relations between the ex-Yugoslav states have been tense since the wars of the 1990s.
Both leaders stressed the co-operation and dialogue that they believe now defines their countries' relationship, pledging to find solutions to outstanding issues such as the return of refugees.
They voiced support for an out-of-court settlement of the genocide charges relating to the war that both governments had previously filed against each other at the International Court of Justice.
And they stressed their common goal: to join the European Union which, says Brussels, will only be achieved through better regional cooperation.
The Croatian-Serbian relationship is a crucial one for the stability of the Western Balkans, the BBC's Mark Lowen reports from Belgrade.
They are the biggest and most powerful former Yugoslav republics and it is widely believed that they can set an example to neighbouring Bosnia, where segregation between the different ethnic groups still runs deep since its own war of independence in the 1990s.
This is a region where reconciliation is notoriously slow, but Zagreb and Belgrade are determined to show that former foes can lay the past to rest in the hope of building a new EU future, our correspondent says.