Dutch bishop gives priest red card for orange Mass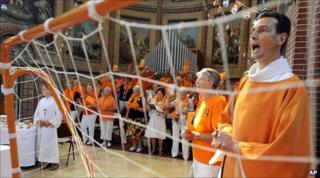 A Catholic priest in the Netherlands who held an orange-themed Mass in support of the national football team has been suspended.
The Reverend Paul Vlaar wore an orange robe and decked out his church in orange before Sunday's World Cup final.
During the service he even acted as a goalkeeper as a parishioner kicked a football down the aisle.
But the Bishop of Haarlem said he had not paid sufficient respect to the sacred nature of the Eucharist.
Footage of the service in the village of Obdam north of Amsterdam made it on to YouTube and was broadcast around the world.
However, it failed to impress Bishop Jozef Punt.
In a statement, he said the service had "caused outrage" in the Netherlands and overseas. He ordered Mr Vlaar to enter "a period of reflection" and suspended him from his duties.
Mr Vlaar was not available for comment, but Obdam parish vice-chairman Win Bijman told AP news agency the congregation was "shocked and disappointed" by the suspension.
"People do not understand it. Everybody supports Pastor Paul and we don't see what was so bad that he should be temporarily suspended," he said.
"Maybe we allowed ourselves to be swept along a little too much in the 'Oranje' euphoria," he added, referring to the Dutch national football team.
"But it is part of Pastor Paul's personality that he manages to harness that kind of enthusiasm to get people into church. The church here is full and in other places churches are empty."
Despite the congregation's best efforts, their prayers went unanswered. The Netherlands lost the final one-nil to Spain.