France arrests three Chechens in terror probe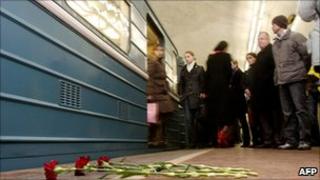 Three Chechens have been arrested in France in connection with a conspiracy to commit terror attacks in Russia, officials say.
The suspects are believed to be linked to a rebel group that said it was responsible for attacks on the Moscow metro on 29 March, when 40 people died.
Arrests last week in the Sarthe area of western France came after a tip-off from Russian authorities.
No details have been released about the suspects' identities or ages.
A fourth man was released in the French investigation.
Those arrested are suspected of having had links to a person involved in terrorist actions in Russia, a judicial source told AFP news agency.
In May Russian officials said three alleged organisers of the metro suicide bombings had been killed after resisting arrest.
Two young women from Dagestan, in Russia's North Caucasus, were identified as the suicide bombers.