Berlusconi wins 'austerity' vote on economic plans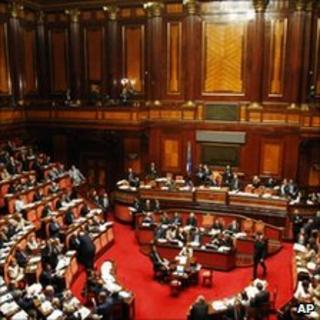 Silvio Berlusconi's government survived a confidence vote on a controversial austerity package designed to shore up Italy's strained public finances.
The vote means Italy has inched closer to finally approving the 25 billion euro ($32bn; £20.8bn) plan.
It comes at one of the most testing times in Mr Berlusconi's premiership.
The two-year plan, aimed at cleaning up public finances and reassuring financial markets, was approved by 170 to 136 votes.
The package must now be voted on by the lower house of the Italian parliament before the end of the month.
Its passage involves a second confidence vote. Berlusconi has said his government would resign if it lost such a vote - although he has a comfortable majority in the lower house.
'Increasingly shaky coalition'
Like many European countries, Italy is struggling to lower debt and contain budget deficits amid slow growth.
Measures included in the package include delaying retirement dates by three to six months, a state salary freeze and pay cuts for high public sector earners.
There will also be a 10% cut per year in 2011 and 2012 in spending by all government ministries.
The measures provoked a wave of revolt when they were unveiled last month.
A general strike organised by the country's largest trade union brought tens of thousands of people onto the streets in cities including Rome, Milan and Bologna in protest.
The BBC's Mark Duff in Milan says the government coalition is looking increasingly shaky.
Mr Berlusconi's personal approval ratings have slumped, and a new corruption scandal has tainted the government.
Meanwhile the past few months have seen the outbreak of a vicious power struggle between Mr Berlusconi and his most senior colleague and rival - the president of the lower house, Gianfranco Fini.
But, our correspondent adds, Mr Berlusconi is not a man to be dismissed lightly. He was recently quoted as saying that if he could live to be 150 he would be able to sort out all of Italy's problems.