How Cyprus TV presenter's naked ambition led to murder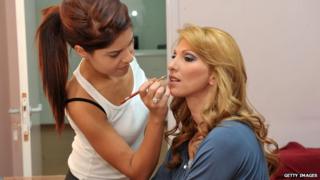 A TV presenter, her brother and two other men have been convicted of ordering the murder of a media tycoon in Cyprus. The trial heard Elena Skordelli's motive was naked ambition.
The trial of Skordelli had echoes of the plot of the 1995 movie To Die For, in which Nicole Kidman played a beautiful, ambitious but manipulative weather presenter, obsessed by becoming a newscaster, who ended up committing murder.
The prosecution claimed Skordelli was similar to Kidman's character in the film - a strawberry blonde high on ambition and cunning.
Detectives believed it was she who dreamt up the plot to murder media tycoon Andis Hadjicostis on 11 January 2010.
But her lawyer, Michael Kyprianou, told the BBC she was the victim of a "wall of hatred" whipped up by the police and media in Cyprus and he claims police failed to look into other scenarios.
As police closed in on her she started behaving erratically, threatening to sue journalists who tried to implicate her and claiming someone had tried to kill her by removing bolts from the wheel of her car.
Eleven days after the murder Skordelli was arrested in a blaze of publicity almost unprecedented in Cyprus.
Mr Hadjicostis, whose father Costis founded the DIAS Media Group, was shot dead in the centre of Nicosia and initially some fingers were pointed across the UN-patrolled Green Line into Turkish-occupied northern Cyprus.
The shotgun casings found at the scene suggested the killer's weapon originated from the self-proclaimed Turkish Republic of Northern Cyprus and there was speculation among some Greek Cypriots that Mr Hadjicostis's murder was linked to the island's political dispute.
DIAS owns the Sigma television channel and also the Simerini newspaper, which had been an opponent of the Annan Plan for reunification of the island and took a hard line over talks with the Turkish Cypriots.
But the police said business, money and revenge were the true motive, not politics.
The trial heard Skordelli, 42, was sacked by Sigma in 2008 and was determined not just to get her own back but to take over the entire DIAS media empire.
She and her brother, Tassos Krasopoulis, 37, planned the murder of Mr Hadjicostis and hoped to take over his business after his death, the court heard.
Skordelli and her brother held a 21% share in Sigma and it was claimed in court they hoped to take over the channel in the wake of his death.
Detectives say her brother hired three men and promised them money and jobs-for-life at DIAS, even though they had no media experience.
Mr Hadjicostis was shot twice, in the chest and the back, and died instantly.
The gunman, 30-year-old Gregoris Xenofontos, fled after the murder but was tracked down to Moldova and was arrested in June 2011, after Skordelli's trial had begun.
A fourth conspirator, Andreas Gregoriou, was also convicted last week.
But it was the fifth member of the cabal, Theophanis Hadjigeorgiou, who proved to be the weak link.
He flipped and gave evidence for the prosecution.
Hadjigeorgiou claimed Skordelli said of Mr Hadjicostis: "They took my money, I want him to die."
He also said she was the only woman he had met who had "such hatred for a man".
Skordelli interrupted his testimony by standing up and shouting: "Shame on you, get up and get out."
But the prosecution said Hadjigeorgiou's damning testimony was corroborated by letters written by Skordelli and evidence found on her computer hard drive.
The trial, which dragged on for two years, also heard details about how the ambitious TV presenter had dreamed about having an affair with the wealthy Mr Hadjicostis.
The Cyprus Mail reported that a detective, Insp Marios Papaevridiadis, told the court: "She had a photo in 2008 (of Hadjicostis), that she gave to a psychic, through which positive energy was sent so that she could have sexual relations with him."
But when the psychic's efforts failed to have the required effect Skordelli fell out with Mr Hadjicostis and his father and was fired for "insubordination".
At her trial her lawyer suggested police had turned a blind eye to other possible scenarios, such as the involvement of a man who was having a relationship with Mr Hadjicostis' wife, Efi Papaioannou.
Mr Kyprianou told the BBC: "There were two or three other possible motives. There was a group making millions in illegal online gambling and the deceased was about to launch a legal online gambling site, and they were desperate to stop him."
Mr Kyprianou said he believed Hadjigeorgiou was the actual gunman but he became a protected witness who was given immunity in return for his testimony against Skordelli.
Mr Kyprianou said there was nothing sinister about her family owning shares in Sigma and he said it was nonsense to suggest she waited 16 months after being sacked to get "revenge" on Hadjicostis.
"What would she have gained? Nothing. The deceased had no shares but even if he had she couldn't have replaced him. It's a silly scenario," he said.
Mr Kyprianou said: "She was a very well known TV presenter but due to the adverse publicity they managed to build up a wall of hatred around her."
Skordelli has been in custody since February 2010 and Mr Kyprianou said one of her two young sons had suffered psychological problems as a result of being separated from her.
Giving evidence at the trial she said: "My children were children like all children of the world. They had their games and pocket money... My children are very upset after my arrest. I cannot talk to them from prison like I could from home."
Now she has been sentenced to life imprisonment and her children will have to grow up without their mother.