Rebel Wilson: Australian paper offers apology but denies outing actress
By Frances Mao
BBC News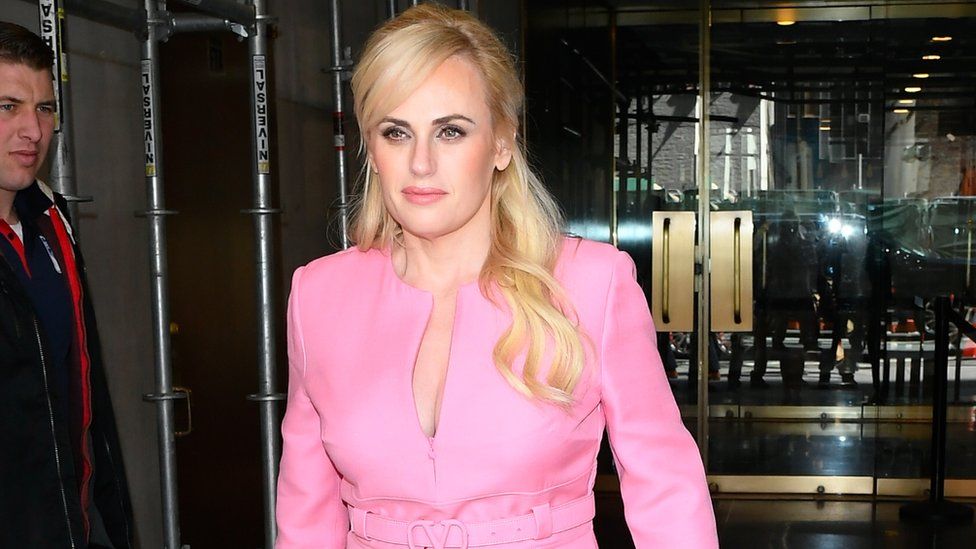 An Australian newspaper has removed a gossip column and its writer has offered an apology after being accused of outing actress Rebel Wilson.
Their celebrity reporter said he had given Wilson 1.5 days to provide comment for a story.
That report sparked widespread criticism on social media, with LGBTQ+ campaigners saying it was unacceptable to put pressure on people to come out.
Bold move to run an editor's note claiming that the paper wasn't trying to out Rebel Wilson after the columnist in question has already written not one but two columns describing in intricate detail his attempts to out Rebel Wilson

— Sarah Holland-Batt (@the_shb) June 12, 2022
Absolute kicker is @smh legitimately scolding Rebel Wilson bc when faced with a newspaper saying they are going to out her without her consent & she has two days to supply a quote, she quickly came out first.

As if @smh owns HER story, is entitled to break it & she scooped THEM!

— Sally Rugg (@sallyrugg) June 12, 2022
A Stonewall spokesperson said: "Coming out is a deeply personal decision. Whether, when and how to come out should be decided by the individual, entirely on their terms.
"It is simply not OK to 'out' LGBTQ+ people or put pressure on us to come out. Media outlets should take care not to sensationalise LGBTQ+ lives and relationships."
In response, the newspaper denied pressuring Wilson, saying it had "simply asked questions".
But on Monday, amid continued public backlash, columnist Andrew Hornery admitted they had "mishandled steps in our approach".
"It is not the Herald's business to 'out' people and that is not what we set out to do. But I understand why my email has been seen as a threat. The framing of it was a mistake."
He also said that "as a gay man, I'm well aware of how deeply discrimination hurts" and that he would not wish to "inflict that pain on someone else".
He included in his Monday column the email he had sent Wilson's representatives last Thursday morning.
In it he had written that he had "enough detail to publish" and "several sources", before specifying a Friday 13:00 deadline.
"In the interests of transparency and fairness, before publishing I am reaching out to Rebel to see if she will engage….," he'd written.
Wilson did not respond to the email before making her own post on Friday. She has not directly acknowledged the newspaper's actions.
But in response to a Twitter post saying it wasn't her choice to come out, the 42-year-old Australian actress, who is known for roles in Bridesmaids and Pitch Perfect among others, said it was a "very hard situation but trying to handle it with grace".
Wilson's post about her relationship with leisurewear designer Ramona Agruma prompted a wave of congratulations from fans and famous friends - along with more than 1.6 million likes.
But in his original column, Hornery claimed that Wilson had "opted to gazump the story" after he'd been in touch.
He added that "her choice to ignore our discreet, genuine and honest queries was, in our view, underwhelming".
In Monday's note he acknowledged "the tone of my column on Saturday was also off".
"I got it wrong," he admitted. "I allowed my disappointment to cast a shadow over the piece. That was not fair and I apologise."
In 2022 you might rightly wonder why someone's sexuality is of interest to anyone, let alone a front-page story in a newspaper.
People within the LGBT community will probably agree that the very first time you tell family, friends or work colleagues is a day that you vividly remember. Many might want to shout it from the rooftops, others may choose to keep that part of themselves separate to other aspects of their life.
But Rebel Wilson didn't seem to get that option and announced it to the world herself, before others could.
Thanks to social media, celebrities can now have a greater control of their own narrative and Rebel made sure she got ahead to say what she wanted and has been widely welcomed and supported.
The fact that I am writing this and you're reading it shows that there is still an interest, even in the 21st century. Maybe it's more the nature of how this emerged and the way it was handled that is stoking that though.
No matter how famous a person is, there is an argument that their love life is their business alone. The criticism the Sydney Morning Herald has received does seem to show that's an opinion many appear to agree with.
In it he denied the paper had outed Wilson, saying the newsroom had made no decision on whether a report would have been published.
He wrote: "Like other mastheads do every day, we simply asked questions and as standard practice included a deadline for a response."
That response sparked further anger on social media.
Bevan
Your paper has no god-given right to know anything about the private life of anyone
I don't claim to speak on behalf of Rebel Wilson
But for LGBTQIA+ people the consequences of what is nothing more than a hissy fit over who gets to print gossip can have devastating effects https://t.co/mzrpHTsoU5

— Magda Szubanski AO (@MagdaSzubanski) June 13, 2022