Rebel Wilson: Paper denies outing actress amid storm of criticism
By Alex Therrien
BBC News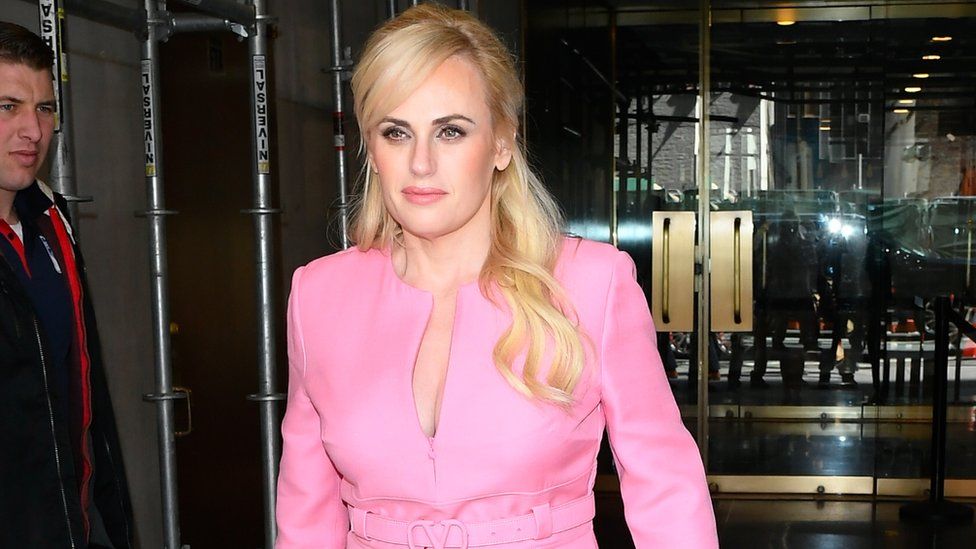 An Australian newspaper has denied outing actress Rebel Wilson amid a storm of criticism over its reporting of her new relationship with a woman.
On Friday, Wilson said she had found her "Disney princess" as she shared a selfie with her partner on Instagram.
But on Saturday the Sydney Morning Herald revealed it had known about the relationship before it was public and had given Wilson two days to comment.
The Herald denied pressuring Wilson, saying it had "simply asked questions".
But the paper has faced criticism on social media, with LGBTQ+ campaigners saying it was unacceptable to put pressure on people to come out.
In response to a Twitter post saying it wasn't Wilson's choice to come out, the 42-year-old Australian actress, who is known for roles in Bridesmaids and Pitch Perfect among others, said it was a "very hard situation but trying to handle it with grace".
Wilson's post about her relationship with leisurewear designer Ramona Agruma prompted a wave of congratulations from fans and famous friends - along with more than 1.6 million likes.
But a day later Andrew Hornery, a columnist at the Herald, revealed the paper had known about the relationship and contacted Wilson's representatives on Thursday morning - "with an abundance of caution and respect" - to request a comment.
Writing in the Private Sydney column, Hornery said: "In a perfect world, 'outing' same-sex celebrity relationships should be a redundant concept in 2022. Love is love, right?
"As Rebel Wilson knows, we do not live in a perfect world.
"So, it was with an abundance of caution and respect that this media outlet emailed Rebel Wilson's representatives on Thursday morning, giving her two days to comment on her new relationship with LA leisure wear designer Ramona Agruma, before publishing a single word."
Hornery went on to criticise Wilson, saying she instead "opted to gazump the story", adding that "her choice to ignore our discreet, genuine and honest queries was, in our view, underwhelming".
BBC reporter Megha Mohan was among those on social media to criticise the paper's journalistic methods and the tone of the piece, saying: "Still reeling from the fact that a publication gave someone a deadline to out them in 2022. Maybe I'm incredibly naive but this is what I imagined 90s gutter press was like and most journalists had huge standards change since then."
LGBTQ+ campaigners also criticised the paper.
A Stonewall spokesperson said: "Coming out is a deeply personal decision. Whether, when and how to come out should be decided by the individual, entirely on their terms.
"It is simply not OK to 'out' LGBTQ+ people or put pressure on us to come out. Media outlets should take care not to sensationalise LGBTQ+ lives and relationships."
I've just read this @smh piece 3 times to make sure that I wasn't misreading. The publication messaged Rebel Wilson saying they would out her in 2 days - and is now complaining that she chose to announce her relationship with a woman herself. Quite astonishing. pic.twitter.com/qiPZkYFmka

— Megha Mohan (@meghamohan) June 11, 2022
Bold move to run an editor's note claiming that the paper wasn't trying to out Rebel Wilson after the columnist in question has already written not one but two columns describing in intricate detail his attempts to out Rebel Wilson

— Sarah Holland-Batt (@the_shb) June 12, 2022
Absolute kicker is @smh legitimately scolding Rebel Wilson bc when faced with a newspaper saying they are going to out her without her consent & she has two days to supply a quote, she quickly came out first.

As if @smh owns HER story, is entitled to break it & she scooped THEM!

— Sally Rugg (@sallyrugg) June 12, 2022
He wrote: "Like other mastheads do every day, we simply asked questions and as standard practice included a deadline for a response.
"I had made no decision about whether or what to publish, and the Herald's decision about what to do would have been informed by any response Wilson supplied."
Shields added that the Private Sydney was a column "in which the writer's interaction with his subjects is often part of the story", adding it was not a "standard news story".
Last month, Wilson told People magazine she had been set up with a new partner "through a friend" but refused to reveal their identity.
She said: "We spoke on the phone for weeks before meeting. And that was a really good way to get to know each other.
"It was a bit old-school in that sense - very romantic."
Wilson was previously in a relationship with businessman Jacob Busch.
They made their red carpet debut as a couple in September 2020 at a gala in Monaco but appeared to confirm their split the following February.
Earlier this year, Wilson followed in the footsteps of Graham Norton, Dame Joanna Lumley and Stephen Fry by hosting the Bafta film awards at the Royal Albert Hall in London.