Australia election: How Scott Morrison ran out of miracles
By Shaimaa Khalil
Australia correspondent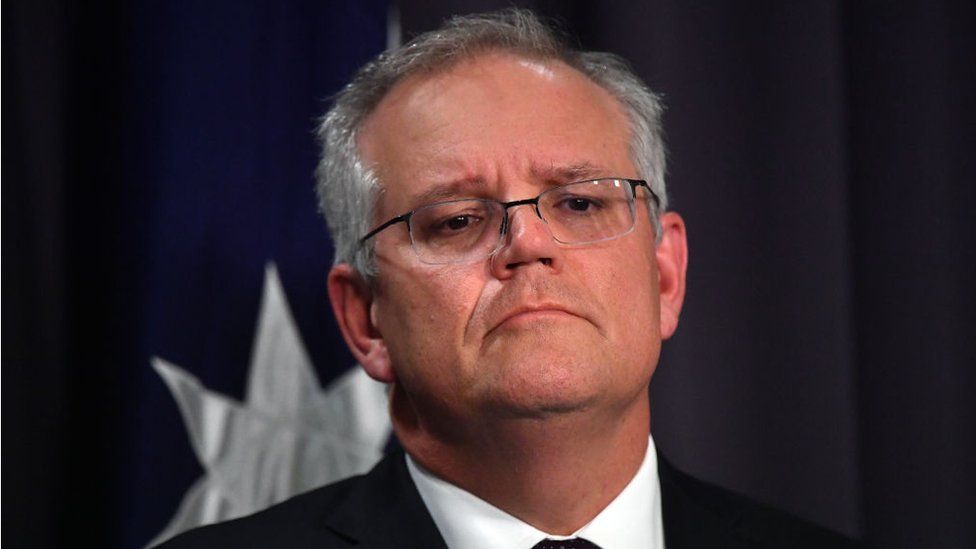 In 2019 Scott Morrison said he "believed in miracles" when he won an election that he had been projected to lose. This time around, it seems he ran out of them.
Voters turned on his conservative coalition on Saturday, flipping key seats to Labor and independents. After conceding to Anthony Albanese, Mr Morrison said he would step down as Liberal leader.
"I always believed in Australians and their judgement, and I've always been prepared to accept their verdicts and tonight they have delivered their verdict," he said.
Mr Morrison has been the more experienced "image builder" and campaigner of the two major party leaders. He has projected this persona of the "typical Australian dad" - someone you can trust, someone who has seen the country through the pandemic and whose governing Liberal-National coalition has been the better economic manager of Australia.
"They're all going to lie," one voter told the BBC. "It's about who you like."
This has really stayed with me.
It's been clear from the campaign that many voters didn't like Mr Morrison. That image of the trustworthy family man has been eroded over the past three years, mainly because more people have felt that this image was just that - an image - not genuine and certainly not to be trusted.
In the past three years there have been moments where his leadership and image fell short.
Many of those affected by Australia's natural disasters have said the prime minister was an absent leader. He wasn't on the ground when he needed to be, they said, and when he was, it was more of a photo op than a genuine presence to listen to people's concerns and even deal with their anger.
Aidan Rickets, a resident in the town of Lismore that has recently been devastated by the floods told the BBC that Mr Morrison "loved to tell us how resilient our communities are and that he knows we'll rebuild… Well how about helping us?"
And course there are the infamous pictures of Scott Morrison on vacation in Hawaii, set against families fleeing their burning homes under smoky orange red skies during the Black Summer bushfires. When he eventually went to the fire-ravaged areas, he was heckled by angry locals and video of people refusing to shake his hands went viral.
They are images that will haunt him long after this election.
The other big misstep was the way he handled the public anger among Australian women after a series of sexual assault allegations. The most prominent was from former Liberal Party staffer Britney Higgins who alleges she was raped inside a ministerial office in Parliament House.
It was a moment of reckoning, a hugely embarrassing one for the government, and the way the prime minister chose to address it was by saying that his wife Jenny told him to handle this like "a father".
The comment angered so many, who asked why a leader needed to be a father to assertively handle a situation like this. Ms Higgins herself said this: "I didn't want his sympathy as a father. I wanted him to use his power as a prime minister."
The government, Mr Morrison especially, came out of this as having seriously misread the room.
Which gets to the heart of why this careful image cultivation has failed Mr Morrison in the end.
In a recent 60 Minutes interview, he cooked curry and played the ukulele among family on camera. It was supposed to make him look relatable. Instead many said it made him look desperate.
Scott Morrison should stop trying to look like the leader people need, and actually be it, argued many analysts.
Then came the admissions towards the end of the campaign.
Mr Morrison acknowledged that he could be a bit of a "bulldozer" and that he should've tried to be a more sensitive leader. But he also argued that being a bulldozer gets results. He suggested that if people voted for him, he'll change.
"Even Scott Morrison is trying to distance himself from Scott Morrison," wrote the Guardian's Katharine Murphy.
The Liberal-National coalition were thrown a couple of major curveballs. The rising cost of living - which has been particularly acute since Russia invaded Ukraine - and the sharp rise in fuel cost. The Reserve Bank also increased interest rates, which was bad news for those with mortgages and first time buyers.
It was also bad news for the Morrison campaign.
Even though the economy recovered fairly well throughout the pandemic, Mr Morrison could no longer confidently boast about that or take credit for it with Australians worried about putting food on the table and making ends meet.
Australia doesn't have a US presidential style election but it's becoming increasingly like that, where the character and likeability of who you vote for are just as important, if not more important, than their policies. If they can convince you to like them, they can convince you to back them.
In the end not enough people liked Mr Morrison this time round.
You may also be interested in: