Liz Cambage: Australian criticises Olympic team photo shoot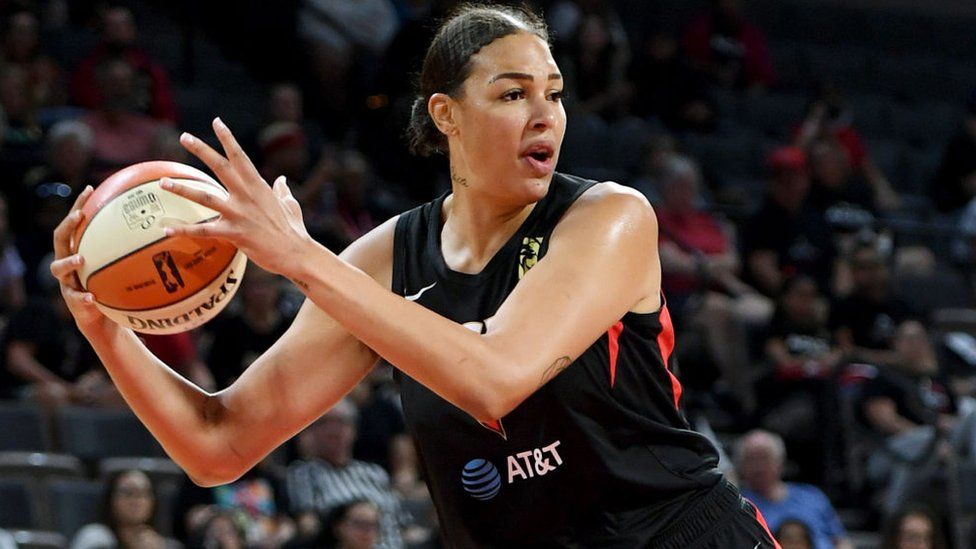 An Australian basketball player has threatened to boycott the upcoming Olympics due to an alleged lack of diversity in a promotional photo shoot.
An image released this week showed Australian Olympians and Paralympians in sponsored outfits, but did not feature any athletes of colour.
WNBA player Liz Cambage later said the photo had been "whitewashed".
The Australian Olympic Committee (AOC) has said more should have been done to reflect the team's diversity.
Ms Cambage first raised the issue on her Instagram stories. The Las Vegas Aces player and 2012 Olympics bronze medallist was born in London to a Nigerian father and an Australian mother.
"If I've said it once I've said it a million times. HOW AM I MEANT TO REPRESENT A COUNTRY THAT DOESNT EVEN REPRESENT ME #whitewashedaustralia," a first post read, under a photo of athletes in apparel provided by sponsor Jockey.
"Y'all really do anything to remove POCs (people of colour) from the forefront when it's black athletes leading the pack," Ms Cambage posted. "Until I see you doing more @ausolympicteam imma sit this one out."
The post finished with a video of indigenous Australian sprinter Cathy Freeman winning gold at the 400m event in the 2000 Olympics in Sydney. Ms Cambage called it "Australia's GREATEST sporting moment".
Born 18 August 1991 to a Nigerian father and Australian mother
First called up to the Australian Opals, the women's national basketball team, in 2008
Appeared in the last two Olympics with the Australian women's basketball team, helping the team win bronze in 2012
Holds the WNBA single game scoring record, netting 53 points against New York Liberty in 2018, and has appeared in three All-Star Games
Also works as a DJ and as an ambassador and model for artist Rihanna's lingerie line Savage X Fenty
While it "acknowledges Liz Cambage's point with regard to this particular photo shoot", it also defended the AOC's record "of celebrating and promoting diversity".
"We proudly defend our track record on diversity and there will be further photoshoots that reflect our broad diversity of athletes," it read.
A former coach of the Australian women's basketball team has meanwhile criticised Ms Cambage, calling her comments "inappropriate".
"If I was coach, I wouldn't entertain any threats at all. If she wants to come, she can come, but if she told me she was going to boycott I'd say, 'Good luck, see you later'."
"We have blood all over our hands, Australia," she said in a video. "How dare people say Black Lives Matter... when we have the darkest, most twisted, most disgusting past when it comes to Indigenous Australians and the treatment of Indigenous Australians."