Why Australia is in hysterics over a 'navy twerking' dance
By Frances Mao
BBC News, Sydney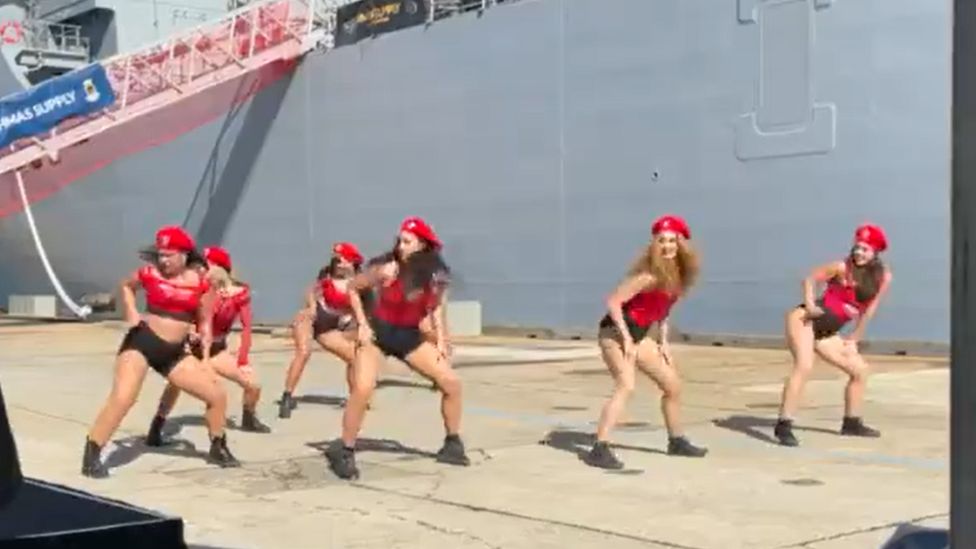 A video of dancers twerking in hotpants at an Australian military event has sent the country into a spin.
The scene was incongruous, bizarre and funny. So of course it went viral when it emerged on Wednesday.
But the music video-style choreography - featuring thumps, thrusts and butt shakes - also came under attack. Conservative lawmakers led the chorus of those calling it "inappropriate".
Tabloids splashed headlines slamming military standards. But others found offence elsewhere - projecting shame onto the dancers, and labelling their routine as too "sexualised".
That in turn sparked backlash over the policing of women's bodies and women dancing. The dance troupe in the footage, 101 Doll Squadron, complained about the media coverage.
As it also emerged the clip had been wrongly edited by the ABC, the national broadcaster, those voices got louder. So how exactly did this "navy twerking" saga unfold?
A step-by-step through what happened... 5,6,7,8!
101 Doll Squadron were hired by the Royal Australian Navy to perform at a commissioning ceremony on Saturday for a new ship, the HMAS Supply.
However, the event only gained wider attention after an ABC reporter shared a separate video on Twitter - which spliced shots of the women's energetic gyrations with stone-faced reactions of attending military leaders.
His tweet - later deleted - quoted a government MP bemoaning a fall in defence force standards. This framing set off a viral firestorm.
The Navy said none of the officials or dignitaries, such as the governor-general, had seen the performance as it had occurred before they arrived. Prime Minister Scott Morrison said "standards have failed" but criticised the ABC's "misreporting".
The Navy has not explained why the dancers were hired.
Video showed the rest of the event continued at a slower pace. It featured the typical pomp and ceremony: brass band performances; formal speeches; ranks of sailors saluting and marching in lockstep. Not as much pizzazz as the dancers.
But the dance vision had already been set loose online - and was generating a lot of negative response.
'Half-clothed... is probably inappropriate'
Conservative politicians jumped on the footage on Thursday morning, saying it was an inappropriate exhibit at a military event.
Independent senator Jacqui Lambie, an army veteran, called it "an absolute shocker" of a decision from military leadership. She thought she'd been watching the Super Bowl, she said, referring to the half-time entertainment show.
"Good on those young ladies for getting out there, but I tell you, being half-clothed outside a warship is probably inappropriate," she said.
But criticism of the military's odd choice of entertainment soon also spilled into shaming and sexualisation of the dancers, and the dance style.
101 Doll Squadron are a community dance squad with members from indigenous and multi-racial backgrounds.
They specialise in dancehall, reggae, afrobeats, commercial jazz and hip hop - dance genres which at times have shocked mainstream white culture, but are now commonly found in modern dance. The commercial group is more commonly hired for parties, hen nights and workshops.
But Sydney newspaper The Daily Telegraph - a Murdoch-owned tabloid - blew up pictures of the dancers on their front page and in a double spread:
The original ABC article quoted another politician - unnamed - who said: "At a time when we are promoting the rights of women not to be objectified, there are other dance moves that would be fun and equally energetic."
But in supposedly speaking for the rights of women, very few asked the dancers what they themselves thought.
But members of 101 Doll Squadron said it was the media's amplification of the story in the first place that had been most harmful.
In particular, they accused the ABC of "deceptive editing" to falsely include shots of military guests and dignitaries in the video which included "shooting from angles which could not be seen by the audience".
"We found this very creepy and reflects more on the ABC's camera operator and their need to sexualise these women and their dance piece for their own gratification," their statement read.
They said they had been subjected to trolling and attacks online. and felt "threatened and exploited" as a result of the attention.
Others online also questioned whether the hysteria was really over the moves of the dancers, and the particular style of dance.
"At the end of the day, these women were just doing their job."
Does twerking objectify or empower women? The BBC explored it here in this 2016 video: