Australia fires: PM rejects 'reckless' calls to limit coal industry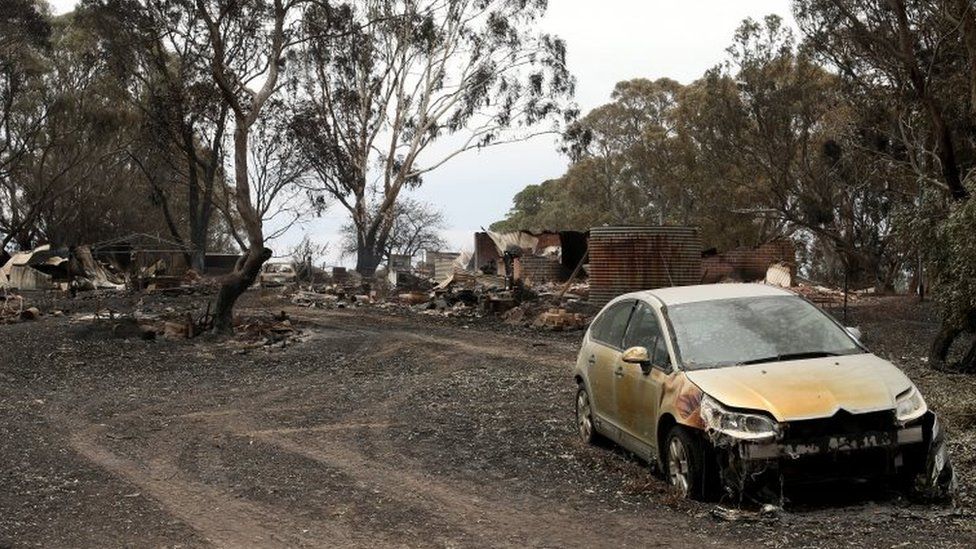 Australian PM Scott Morrison says he will not make "reckless" cuts to the nation's coal industry, despite criticism of his response to climate change and a deadly bushfire crisis.
Australia is being ravaged by bushfires which have killed nine people and razed hundreds of homes since September.
As the crisis escalated last week, Mr Morrison faced a backlash for deciding to take a family holiday to Hawaii.
On Monday, he reiterated he would not adjust his policies through "panic".
"What we won't do is engage in reckless and job-destroying and economy-crunching targets which are being sought," Mr Morrison told local broadcaster Nine.
What did Mr Morrison say?
Mr Morrison said tackling climate changes was "as important now" as it was earlier this year, before the fire emergency.
He said his nation was on track to meet its emissions reduction commitments - an assertion previously disputed by the UN.
"I don't accept the suggestion that Australia is not carrying its weight," he said on Sunday.
Why is he being criticised?
Australia is committed to reducing its emissions by 26-28% below 2005 levels by 2030.
It has sought to achieve this in part by using credits accrued for beating targets under the previous international climate agreement, the Kyoto Protocol. It is the only country in the world openly doing this.
But critics say the Kyoto targets were not rigorous enough, and the country must now make much deeper cuts.
While carbon emissions within Australia are relatively low, its fossil fuel exports account for an estimated 7% of world emissions.
Opposition Labor leader Anthony Albanese accused Mr Morrison of stubbornness.
"People are scared of what is going on around them," he said, quoted by AFP. "And if Mr Morrison thinks that there's nothing to see here, it's because he can't see through the smoke and haze that's been created by these bushfires."
What's the latest with the fires?
Firefighters are struggling to contain bushfires burning across several states amid dry and hot conditions.
New South Wales Premier Gladys Berejiklian said there was "not much left" of the small town of Balmoral. With a population of about 400 and 150 houses, it was hit twice in a matter of days.
Residents are currently not allowed to return, and an unknown number of homes have been destroyed.
No fatalities were reported but several firefighters were reportedly injured. More than 800 homes have been destroyed in NSW since the fire season began.
Just before 11pm, there are 98 bush and grass fires burning in NSW, 50 are still to be contained. More favourable conditions today have allowed firefighters to work on assessing the damage from the last couple of days and focus on containment options. #nswrfs #nswfires pic.twitter.com/up84cgPwCz

— NSW RFS (@NSWRFS) December 22, 2019
Elsewhere, at least 86 houses were destroyed in the Adelaide Hills area of South Australia, where a 69-year-old man was found dead at his property on Saturday.
Wine industry spokesman Jared Stringer said up to one-third of the region's vineyards were in the "burnout zone".
Officials said they were hoping to exploit cooler conditions over the coming days to try to contain the fires.
However, temperatures in Adelaide and the Victorian capital Melbourne are forecast to reach 39C next weekend.
What is driving the fires?
A combination of record temperatures, low humidity and strong winds have worsened the struggle to deal with the bushfires.
Scientists have long warned that a hotter, drier climate would contribute to Australia's fires becoming more frequent and intense.
"We're in a period of unbelievable drought and some areas haven't seen rain for more than 12 months," NSW Rural Fire Service Inspector Ben Shepherd told the BBC. "These fires are likely to continue to spread well past Christmas."
Commissioner Shane Fitzsimmons told reporters: "We will not get on top of these fires until we get some decent rain - we have said that for weeks and months."
Rain is forecast in some fire-struck parts of NSW on Tuesday and Wednesday but another period of dangerously hot weather is expected next week.
Weather officials say no major rainfall is expected in the next two months.
Please include a contact number if you are willing to speak to a BBC journalist. You can also contact us in the following ways: