Trolley man: Funds flood in for Melbourne's homeless hero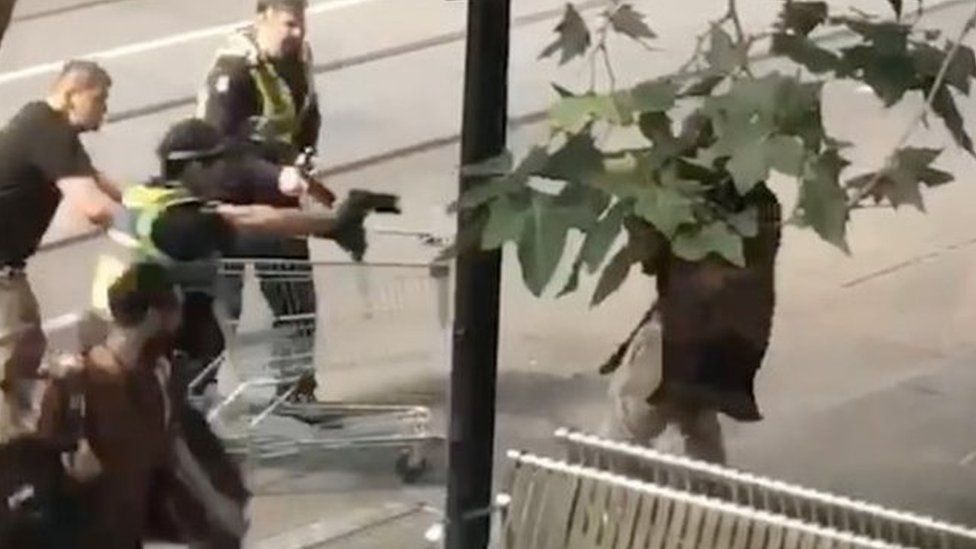 A funding campaign has raised almost A$100,000 (£55,000; $72,000) to help a homeless man who tried to stop a knife-wielding attacker in Melbourne by ramming him with a shopping trolley.
Michael Rogers, dubbed "Trolley Man" online, was filmed on Friday trying to prevent Hassan Khalif Shire Ali from stabbing two police officers.
The suspect had already killed a cafe owner and injured two other people.
When tracked down by reporters, Mr Rogers, 46, told 7 News: "I threw the trolley straight at him, and I got him. I didn't quite get him down, though."
At the time he was only metres from a burning car full of gas cylinders, which the attacker had set alight near Bourke Street, a busy road in the city centre.
Footage of Mr Rogers' efforts spread rapidly online, where he was hailed as a hero.
A GoFundMe fundraising page was set up by Donna Stolzenberg, founder of the charity Melbourne Homeless Collective, to help get him back on his feet.
"As a person he just deserves it," she told Reuters.
At time of writing, 3,388 people had donated money, and the page had been shared 11,000 times on Facebook.
A message from its creator read: "UPDATE: We've found him! What an absolutely incredible human. We had a long chat on the phone today and we're even more proud of him. Our hero is humble as can be and had no idea about this fundraiser. We'll be catching up tomorrow to hand over his donations. He is amazing."
Ms Stolzenberg's charity will now help Mr Rogers find housing, as well as psychological support to process what he witnessed.
Victoria Police Chief Commissioner Graham Ashton said the Friday attack is being treated as a terrorist incident.
You might also be interested in