Invictus Games: Athlete comforted in moving on-court moment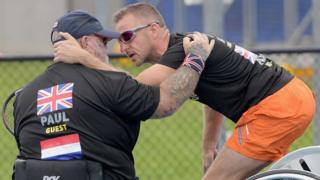 A British athlete has been comforted by his team-mate in a moving moment at the Invictus Games, after becoming unsettled by the sound of a helicopter.
Former mine warfare specialist Paul Guest was playing in a wheelchair tennis match in Sydney on Monday when the helicopter flew overhead.
His Dutch team-mate, Edwin Vermetten, embraced Guest - who has suffered from post-traumatic stress disorder (PTSD).
The moment left some spectators in tears, the event said on its website.
Guest, from Essex, then returned to the court, and the pair went on to narrowly win the doubles match against a US pair.
Speaking after the match, Vermetten said he had helped his team-mate by encouraging him to sing Let It Go from the Disney film Frozen.
"I took him by the face and said: 'Look at me. We are a team so let it go,'" he said, according to a post on the Games' website.
The Invictus Games is a Paralympic-style competition for injured servicemen, servicewomen and veterans. This year's event began in Sydney on Saturday.
Prince Harry founded the Games in 2014 with the aim of helping wounded service personnel and veterans with their physical and psychological rehabilitation.
According to his Invictus Games profile, Guest, 54, has suffered PTSD since being wounded while on duty with the British army in 1987.
He was also left with neck and spine injuries which require 24-hour care.
He has described participating in last year's competition as helpful for his mental and physical recovery.
The Invictus Games involves athletes from 18 countries competing in 11 sports over eight days.