Australia drought: New South Wales town 'mobbed' by thirsty emus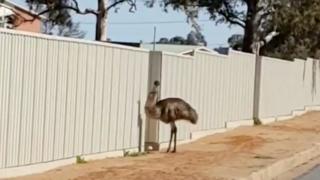 Large numbers of emus have been flocking to an outback mining town in New South Wales as Australia continues to struggle with extreme drought.
The flightless birds are desperately searching for food and water in Broken Hill, local animal rescue services say.
"They're actually walking down our main street. We're seeing mobs of them," wildlife worker Emma Singleton said.
Separately, the Australian PM has announced extra aid for farmers hit by the drought.
"I want to say to our farmers, we have your back," Malcolm Turnbull told reporters, as he announced a A$1.8bn (US$1.3bn; £1.03bn) increase in funds to help deal with extreme aridity in New South Wales.
Australia's most populous state, which produces about a quarter of the country's agricultural output, was officially declared entirely in drought on 8 August.
In Broken Hill, 935km (580 miles) west of Sydney, groups of emus have been seen "running laps of the main street, eating gardens and gate crashing football matches", ABC News reports.
Ms Singleton, who works for the Rescue and Rehabilitation of Australian Native Animals, said: "We've had 14 on a sporting oval. They've been out there for weeks - the locals in that area are giving them food and water."
She told ABC her organisation had been averaging two or three calls from concerned residents a day.
According to Reuters news agency, five emus have been hit by cars in the past week alone. But Ms Singleton said their biggest concern was possible dog attacks.
Parts of New South Wales have had the lowest rainfall on record, with less than 10mm of rain recorded in some areas in July.
As well as failing crops, farmers there have been struggling to feed and water livestock. Mr Turnbull said some had spent as much as A$10,000 per truckload of hay just to feed their animals.
On Friday, a convoy of 23 trucks carrying 2,300 bales of hay for more than 200 farmers arrived in New South Wales from Western Australia, some 3,500km away.
The problem is not confined to the state, with more than half of neighbouring Queensland in drought and parts of Victoria and South Australia also experiencing dry conditions.
The dry spell has also led to dozens of unseasonal bushfires across New South Wales.