How accurate is the murder rate in Miss Fisher's Melbourne?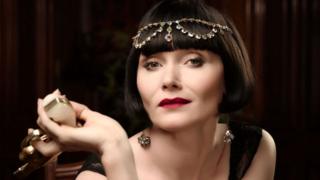 One of Australia's most popular TV shows, Miss Fisher's Murder Mysteries, is set in 1920s Melbourne against a backdrop of jazz clubs, communist plots, alleyways and fabulous outfits.
Its protagonist, private detective Phryne Fisher, has a knack for finding herself embroiled in murder cases week after week.
Armed with a quick wit and "modern" outlook, Miss Fisher is shown living a glamorous - albeit often perilous - life.
But watching the series, the team behind BBC Radio 4's More or Less became suspicious: surely the murder rate on the show must be astronomical in comparison to real life?
Other TV murder mystery shows have proved to be very deadly.
More or Less has previously investigated the UK's Midsomer Murders series, which is set in a group of sleepy rural villages. The team worked out that the murder rate in Midsomer stood at 32 murders per million inhabitants. That's more than triple the real life rate in Oxfordshire - the English county where much of Midsomer Murders is filmed.
But the most dangerous place in TV land by far is Cabot Cove - the fictitious town where iconic crime series Murder She Wrote is set. With a whopping 1,490 murders per million, it makes Midsomer look like a vicar's tea party, which incidentally is exactly the type of setting you'd encounter in a Midsomer Murders episode.
So what about Miss Fisher-era Melbourne?
Historian, writer and Melburnian Chris McConville says it was "a pretty dowdy, conservative sort of city" in the late 1920s. Melbourne had been hit by economic depression after the gold-mining boom of the 19th Century.
Michael Shelford, a historian and creator of Melbourne's True Crime Tours, agrees and points out that the city was under prohibition from 6pm each evening onwards. This increased the sale of sly grog (counterfeit alcohol) but not necessarily violence, he says.
In fact, both historians told us that many of Melbourne's most notorious gangs had been forced out of the city in this period.
However, newspapers of the time were keen to report murders. One such headline, printed in The Argus on 4 February, 1929, reads: "East Melbourne Tragedy. Woman's Violent Death. Man Charged with Murder."
But the reason those events caused such a sensation was because they were relatively rare compared to previous years, say both Mr Shelford and Dr McConville.
So, how do the numbers stack up?
According to its creators, the episodes in the first series of Miss Fisher's Murder Mysteries take place between July and December 1928, with each episode spanning a two-week period.
We have calculated how many murders on average there were per month. As none of the series span a whole year, we have filled in any missing months by assuming that the murder rate remains the same.
There are 18 murders in the first series that take place within Melbourne and its suburbs, which works out to a rate of about three per month.
Surprisingly, this is very similar to the real murder rate of the time.
The city coroner released yearly or four-yearly morgue reports, which were printed in Melbourne's newspapers during the 1920s.
In 1928, the coroner recorded 32 homicides - or 2.6 murders per month. Comparing these figures to the population, the show's murder rate is 36 per million in 1928, whereas in real life the number was 32 per million.
So far, so impressively accurate.
However, when you look at the next two series, Miss Fisher's world becomes more deadly.
In series two and three, which are both set in 1929 the murder rate goes up to an average of four murders a month, which translates to a fairly impressive 47 murders per million. In reality, Melbourne recorded 28 homicides at a rate of 2.3 murders a month, or 26 per million.
All this obviously comes with a couple of caveats: firstly, that Phryne Fisher was involved in every single murder investigation in the city, and secondly, that coroners in the 1920s were never wrong.
So, while the first series of Miss Fisher gives a relatively accurate picture of Melbourne's murders, the later episodes are an unreliable witness.
The show works out to be more dangerous than tranquil Midsomer, but much less dangerous than the frankly alarming Cabot Cove.
Sartorially speaking, though, Miss Fisher slays every time.