Why a widower ran a marathon for his wife, and their sons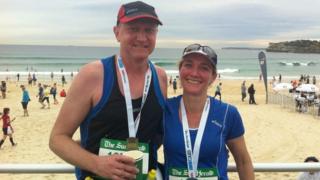 Sydneysider Peter Bayliss's ultimate goal was to run a marathon aged 50 - a feat he achieved at the Boston Marathon on Monday.
What he didn't plan for was that his jogging mate and wife, Lisa, wouldn't be at his side, following her death in 2015 from a rare disease.
The couple had completed four half-marathons together. On Monday, Mr Bayliss ran the "second half" in honour of his wife, and to raise money for Creutzfeldt-Jakob disease (CJD).
"Some days I think I've bitten off more than I can chew, but my boys keep me going. They're my rocks," he says of his sons Josh, 21, Will, 18 and Ollie, 14.
Lethal gene
Alarm bells first rang for Lisa Bayliss when her dad, 63, died of CJD - a fatal brain disorder, which sends sufferers into a sharp mental decline, then rapidly kills them.
There are several types of the disease, one of which - the rarest form - is genetic. Worryingly, for Mrs Bayliss and her two sisters, this was the type their dad had.
After agonising, the three sisters underwent genetic testing, asking that their results be delivered to them simultaneously. Only the eldest, Susan, didn't carry the lethal gene. The two youngest sisters, Mandy and Lisa, both tested positive. It was a death sentence.
"CJD quickly turns your brain to sponge," Mr Bayliss says. "In [her] last three weeks, Lisa got dementia, lost her faculties, her memories and her speech."
At first, it crept up on him: "I didn't see the subtler changes - her gait, the stare. But then her deterioration was daily. People couldn't fathom how quickly it all happened; even our neurologist was surprised."
Of the three boys, Mr Bayliss says that Ollie, the youngest, took it the hardest.
"Ollie was in year 6 and he saw his mum become very peculiar," he says. "The others came to terms with that, but Ollie wrestles with it."
There was no "bucket list" or even proper goodbye conversations. "The crippling thing was, we didn't plan or talk about what life might look like," he says. "Her dad was 63, so we thought we'd have more time."
Mrs Bayliss was 47 when she died in 2015.
Research has 'fallen away'
Many people know CJD as the human form of "mad cow disease", but this differs from the type Mrs Bayliss inherited. Prof Steven Collins, from the University of Melbourne's medicine department, says that 10-15% of CJD sufferers have the genetic type.
Variant CJD - which is transmitted through food and known as mad cow disease - was first described in the UK in 1996, but no cases have been reported in Australia.
Prof Collins says he is "not overly optimistic" about a cure for CJD, the most common in a group of transmissible disorders known as prion diseases.
"There are research funding restraints because the disease is so rare - it has fallen away as a public health concern," he says.
Pharmaceutical companies are reluctant to invest in rare diseases, adds Prof Andrew Hill, from Melbourne's La Trobe University Institute for Molecular Science.
"The treatment of CJD is so difficult because of its rapid onset," he says. "Diagnosing degenerative diseases early is crucial because the damage cannot be reversed once it has started."
Prof Hill highlights analysis of US National Institute of Health grants that suggests a downturn in CJD funding there since 2009 and an overall downturn in the funding of prion diseases.
In the UK, a group of volunteers have set up the "Cure CJD Campaign" and are fundraising to support the work of researchers and doctors at the Medical Research Council (MRC) Prion Unit.
The MRC was behind research that said it may be possible to develop a urine test for CJD, and the identification of a gene that might make people resistant to the disease.
Father's fear
There's a reason Mr Bayliss, who works in pharmaceutical public relations, is so passionate about fundraising for better research into rare diseases by running the Boston Marathon.
When I ask him the probability of his three sons inheriting the same lethal gene, there's a pause and he chokes up. "It's 50%," he says.
As for whether they'll get the same genetic test their mum and her sisters did, he says: "I don't know what to say to them. How do you change your life, knowing that? If one was positive and the others weren't... that's tough. They're still wrestling with the raw grief of losing their mum."
But he says his sons regularly impress him with their resilience and maturity, and provide him with strength.
Waiting for his dad at the end of the Boston Marathon was Mr Bayliss's youngest son. "Ollie doesn't give much away, but when I've been doubting I can do it, he's said, dad, you can do it - you've put the effort in, stop doubting yourself," he says.
It was emotional finish line for the father, who wrapped up the race in just over five hours.
"I needed [Ollie's] emotional support but also his physical support!" Mr Bayliss says. "This 50-year-old body fell into his arms, and he held his old man up."
Gary Nunn is a freelance writer based in Sydney.