Israel Folau: Rugby player criticised for anti-gay post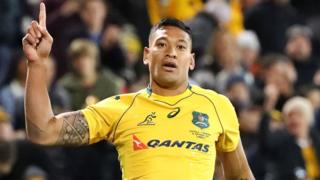 Rugby Australia says it does not support the views of star player Israel Folau after he suggested that gay people would end up in hell.
The Wallabies player was widely criticised for the comment, which he wrote on Instagram on Wednesday.
Rugby Australia said it supported "all forms of inclusion", while major sponsor Qantas said Folau's opinion was "very disappointing".
Folau has not responded to the backlash.
Last year, Folau sparked disagreement within the national rugby union team after he tweeted about his opposition to same-sex marriage.
His latest comment was a response to an Instagram user who asked Folau: "What was god's plan for gay people?"
The player replied: "Hell... unless they repent of their sins and turn to God."
The comment has since been deleted, but screenshots of the exchange have drawn condemnation online.
"Folau's personal beliefs do not reflect the views of Rugby Australia," the sport's national governing body said in a statement on Thursday.
"Rugby supports all forms of inclusion, whether its sexuality, race, or gender, which is set out in our Inclusion Policy (2014)."
Qantas said: "We've made it clear to Rugby Australia that we find the comments very disappointing."
Some social media users called on the airline to end its sponsorship of the team.
Last year, Qantas chief executive Alan Joyce won an award for his vocal campaigning in favour of same-sex marriage - which Australia legalised in December.