Curtis Cheng murder: Australian jailed for aiding terror act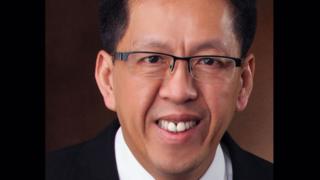 An Australian man who supplied a gun used in the terror-related killing of a police worker has been jailed for a maximum of 44 years.
Raban Alou, 20, had pleaded guilty to his role in the murder of Curtis Cheng, 58, who was shot by a teenager outside a Sydney police station in 2015.
Alou is the first person in Australia to be jailed for aiding and abetting a terror act that was then carried out.
After being sentenced, he saluted and said "this is only the beginning".
According to prosecutors, Alou supplied a Smith & Wesson .38 revolver to 15-year-old Farhad Jabar at a Sydney mosque on 2 October, 2015 - the day of the shooting.
Jabar then murdered Mr Cheng, a police accountant, outside the New South Wales police headquarters in the suburb of Parramatta. Jabar was shot dead by responding police officers.
The teenager was reported to have shouted religious slogans at the scene.
In handing down his sentence, Justice Peter Johnson said Alou had "played a lead role" in the attack and shown no remorse for his actions.
Sydney's Daily Telegraph reported that Alou gave a one-finger salute in court and said: "I'm going to paradise, you're going to hell... this is just the beginning for enemies of Islam."
Justice Johnson said the outburst reinforced Alou's "almost hopeless" prospects of rehabilitation.
"The offender's response is devoid of basic humanity," the judge said.
Alou will be eligible for parole in 33 years.