MasterChef Australia judge wins appeal against conviction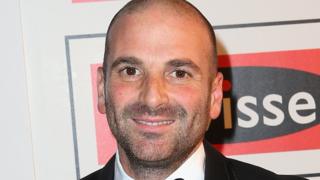 An Australian celebrity chef has been successful in overturning his conviction for assaulting a football match spectator.
George Calombaris, a MasterChef Australia judge, had pleaded guilty to punching the man at the A-League grand final in Sydney last year.
He was fined A$1000 (£570; $800) and received a conviction in October.
A judge quashed the conviction on appeal, instead imposing a 12-month good behaviour bond on Mr Calombaris.
In explaining his decision on Wednesday, Judge Andrew Scotting said Mr Calombaris had an "exceptional character" and his punch had not been forceful.
The chef had already suffered financial and personal losses over the incident, including a A$300,000 sponsorship role, the judge said.
"To my mind, he is largely rehabilitated already in respect of this particular incident," Judge Scotting said, according to the Sydney Morning Herald.
Last year, Mr Calombaris made a public apology over a separate incident involving the underpaying of staff at his restaurant company.