Manus refugees: Second group held by Australia leaves for US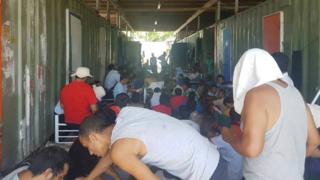 A second group of refugees who were detained in Papua New Guinea (PNG) by Australia have left for the US under a resettlement deal.
About 40 men left PNG's Manus Island on Tuesday, local media and refugee advocates said.
They follow 54 refugees who migrated last September under an agreement between Canberra and Washington for the US to take up to 1,250 people.
Another 18 refugees are expected to fly out next month, according to advocates.
The latest migrants - mostly from Afghanistan and Pakistan - had been told they would never settle in Australia, part of a long-running strategy to discourage human trafficking.
Under a controversial policy, Australia has detained asylum seekers who arrive by boat in centres on Manus Island and the Pacific nation of Nauru.
The US deal, struck with the Obama administration, was initially criticised by President Trump but he later agreed to honour it.
In return, Australia has pledged to accept a small number of Central American refugees.
The UNHCR said on Monday it had referred more than 1,200 refugees to the US since December 2016.
"We are very happy that some people have got to the US, but it begs the question of how many people have been left behind," Ian Rintoul, from the Refugee Action Coalition, told the BBC.
"It is clear that the US deal will not resettle all those people who have been found to be refugees."
The agreement, which is being administered under the United Nations refugee agency, is prioritising women, children and families and other refugees found to be the most vulnerable.
The Australian government did not immediately comment on Tuesday.
Canberra closed its detention centre in PNG last year, forcing asylum seekers and refugees to move to transit centres elsewhere on Manus Island.