Dozens of reptile eggs found in Australian school sandpit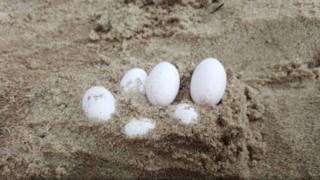 Australian wildlife rescuers have removed 43 reptile eggs from a sandpit at a school in New South Wales.
The incident sparked alarm after initial reports suggested the eggs belonged to the eastern brown snake, the country's deadliest species.
Volunteers from the Fawna NSW animal aid group were called to remove the eggs from St Joseph's Catholic primary school, near Laurieton.
The few eggs they were expecting turned out to be seven nests.
At first, rescuers Yvette Attleir and Rod Miller thought the eggs might belong to water dragons - river-dwelling lizards that can grow to 90cm (3ft) long.
They then announced they were probably brown snake eggs, prompting widespread debate on social media from snake experts (official and self-appointed).
"I believed they were brown snake eggs due to the fact that they were seen in the area and that when I shone a light through the egg, I saw a small striped baby snake," Mr Miller explained.
However, Fawna later updated its position after questions were raised about the shape of the eggs.
"We believed at the time, and still do... that we may have had snake eggs," it said in a Facebook post. "We couldn't take the chance of them not being a harmless reptile."
Fawna president Meredith Ryan told the BBC the eggs has been carefully relocated to a new site well away from people. When volunteers went to check on them, they found all but three had hatched and dispersed, so they were unable to identify the hatchlings.
Brown snakes are among the world's most venomous, and kill more Australians each year than any other snake.